There are two options to choose from when deciding how you wish the Lumon Glazing to work: sliding (LGS) or retracting (LGR). Both options are frameless, giving a clear and unobstructed view of the outdoors. While one slides and stacks up on tracks, the other retracts and opens completely next to a wall. Both are excellent options, both are high-end quality - Our experts will help you choose the best option to fit the project needs. You can choose one option or a combination of both.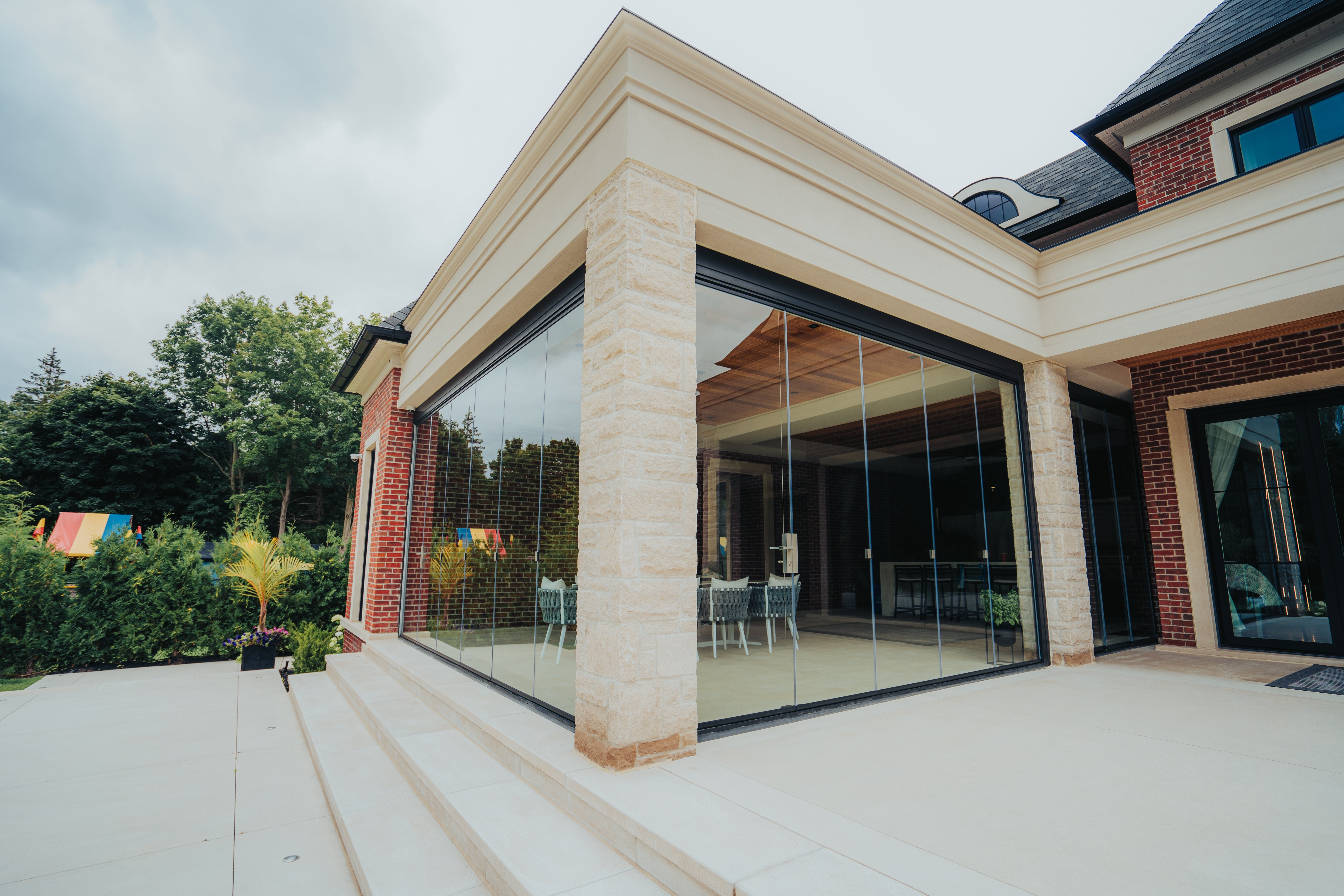 Here are three factors to consider when deciding if you want to use sliding glass walls or retractable glass walls as a floor-to-ceiling window for your patio!
Size of your enclosure:
The size of your enclosure plays a big role in deciding if you should go for Lumon Glazing Retractable (LGR) or Lumon Glazing Sliding (LGS) systems.
Sliding patio glass is the best option for small spaces with little room to fold open the retractable patio glass. The glass panes slide along a series of tracks without folding out.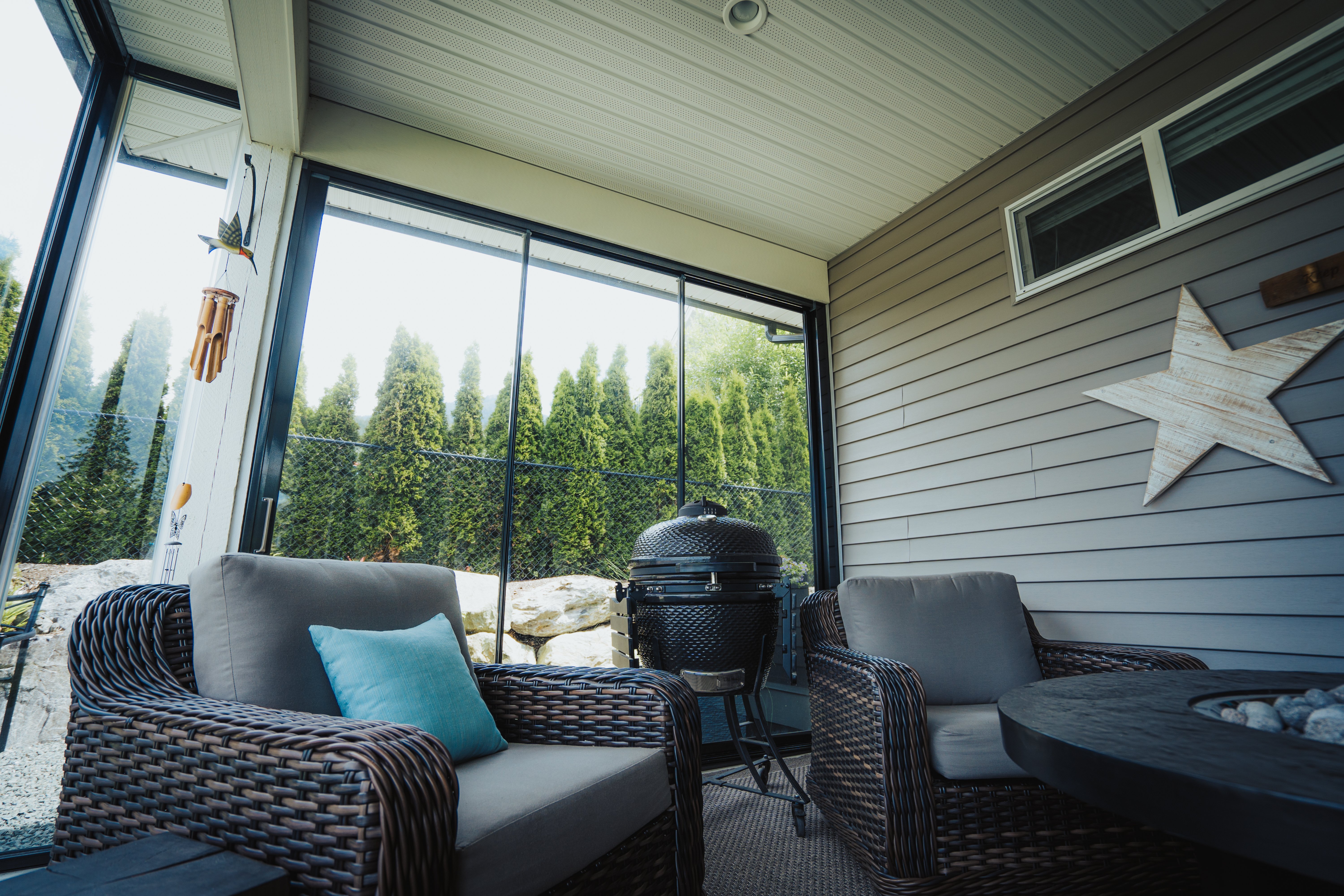 On the other hand, if you have enough space to fold the glass panels in the corner of the room, the choice goes down to your personal preferences. With a retractable glass solution, the panels can be left open or cracked to have a nice breeze coming in or the space can be completely closed to enjoy cozy moments in the sunroom.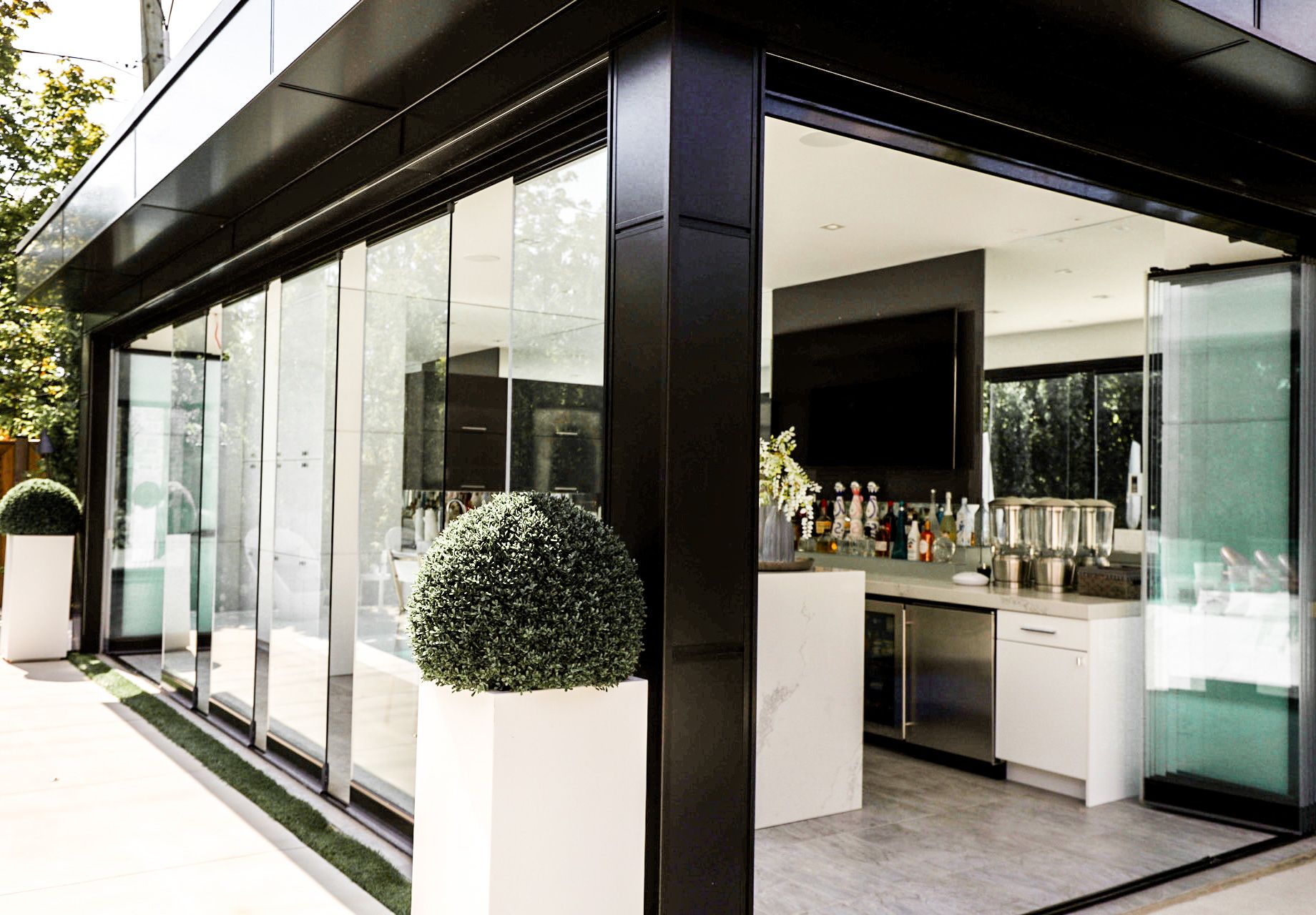 Current structure:
When deciding if you want to invest in a sliding glass wall or a retractable glass wall system, it is essential to understand the current structure of your patio or porch, your local design consultant will be able to examine your current patio structure in your free at-home consultation.
The structure of your current patio/porch depends on the existing deck and existing roof.
Having a structurally sound deck is a requirement for both LGR and LGS. Both Lumon systems can be built on concrete and wooden decks. You can find more information on some concerns related to decks that need to be considered before installing a Lumon glass wall system here.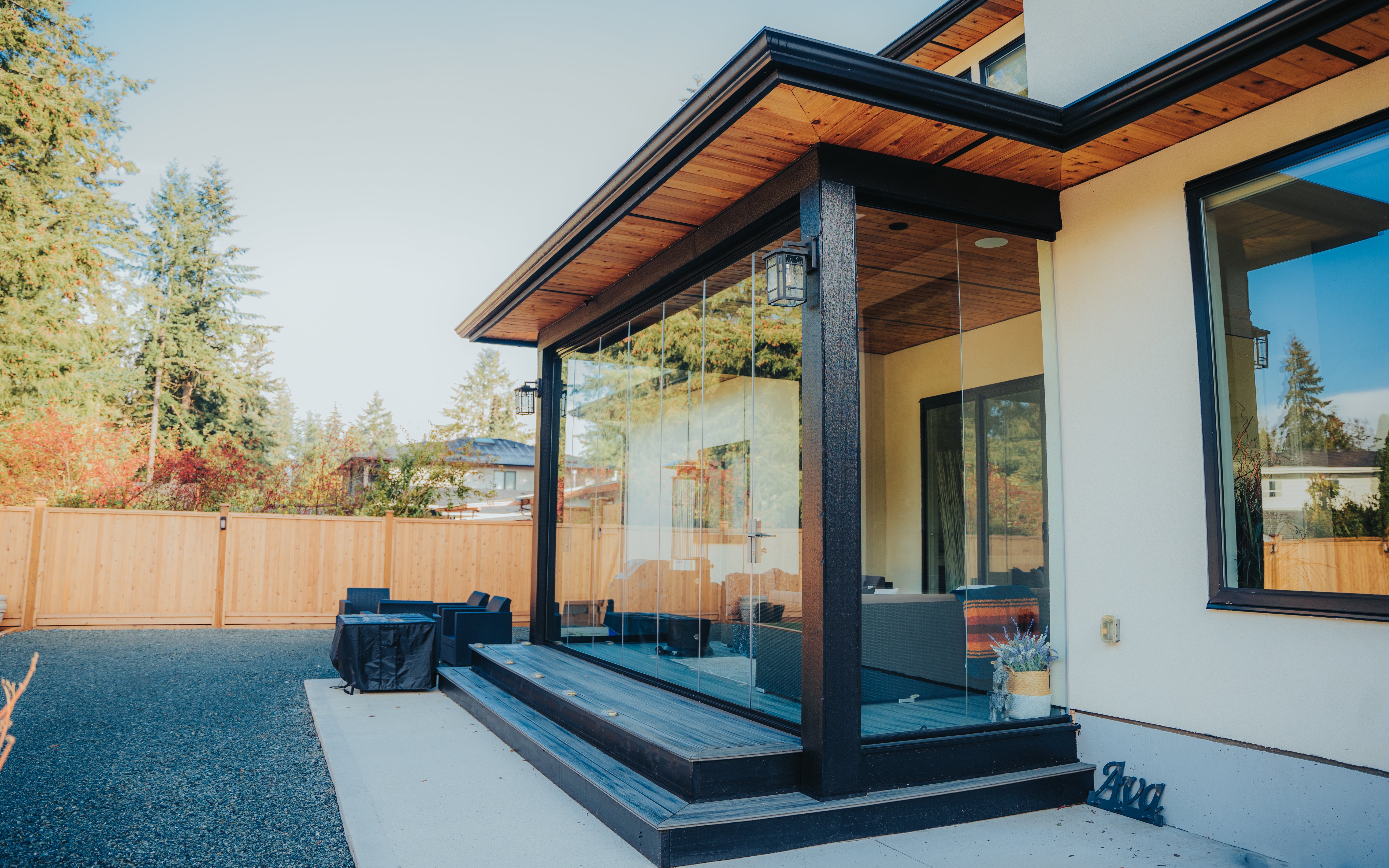 Another aspect of the structure is the roof. If you do not have an existing roof and are planning to build a roof with Lumon, you will have the option to go with either of our systems. On the other hand, if you have an existing roof, it is important to evaluate the quality of that roof. As our Lumon retractable systems are top-hung, it is critical to ensure the beam in your roof is able to support the weight of our sturdy Lumon systems. Alternatively, your local design consultant will be able to provide creative solutions to make an LGR system installed if possible.
If after examining the roof, it is deemed unfit for LGR system, Lumon sliding systems can always be installed regardless of the roof's strength.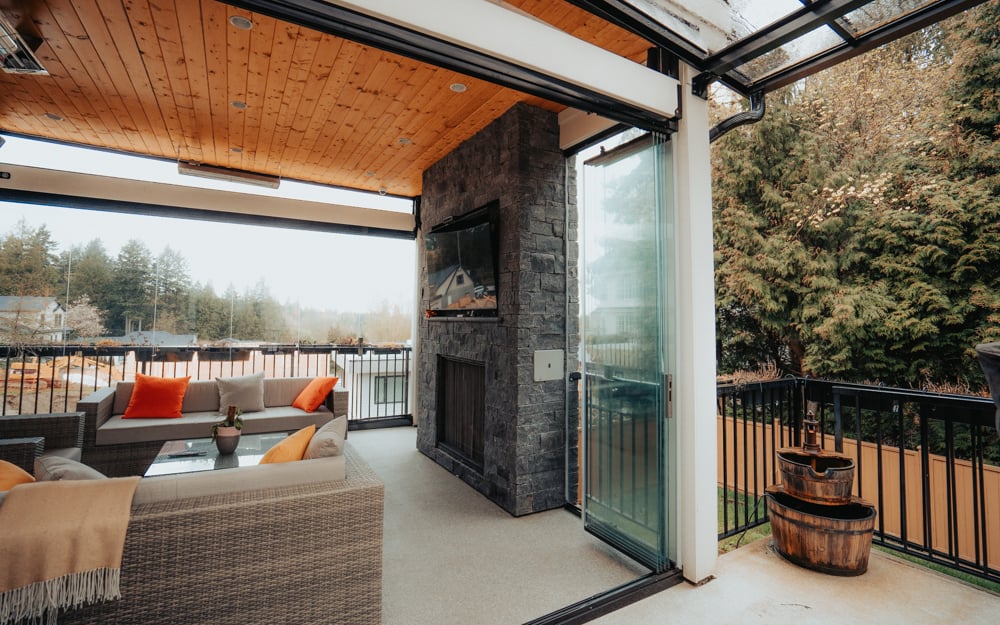 Ease of use:
Lumon has experience of 40+ years in making better homes. Modern mechanisms have made it easy to use sliding and retractable systems.
As sliding glass walls are widely used in the market, the easy mechanism to move large-sized panels at the push of a finger is well-known.
Because of the exclusivity of retractable glass walls in the market, many customers, especially customers aged 60+ years in age or customers who have small children, think operating the LGR system will be challenging. This assumption cannot be further from the truth, in reality, Lumon's continuous product development has allowed us to provide you with a system that is more elegant, exclusive and equally easy to use as our LGS system.
We strongly encourage you to book an appointment with our local design consultants to visit our showroom in Ontario and BC to experience the seamless look, quality and mechanism for both our systems before making a decision.
Do you still have questions on what could be the best fit for your home? Get personalized tips from a Design Consultant and start your journey to adding more room to life to your patio or porch!