A typical question that arises in the planning phase of transforming your relatively unused patio into a usable and versatile space: can you build a sunroom on an existing deck? In this blog we hope to open up various decking options, and what considerations should be made before the execution of your sunroom project.
Decking options
Concrete pad
Concrete pads are a common backyard solution. Concrete pads are usually affordable, versatile, durable and easily maintained. However, if you are planning to construct your sunroom on top of a concrete pad, there are some considerations to make. Concrete pads can be susceptible to heaving, so a full foundation across the perimeter of the pad should be considered carefully.
What is considered a sturdy foundation?
What does having a sturdy foundation exactly mean? Whether you are building a deck or a concrete pad, you must consider heaving. Typically, decks are built on piers, either helical or concrete. This makes for a heaving-proof structural solution. With today's technology, concrete pier pads can also be used, although for this, we recommend consultation from an expert in the field. A frost wall across the perimeter of the pad can be considered a sure solution.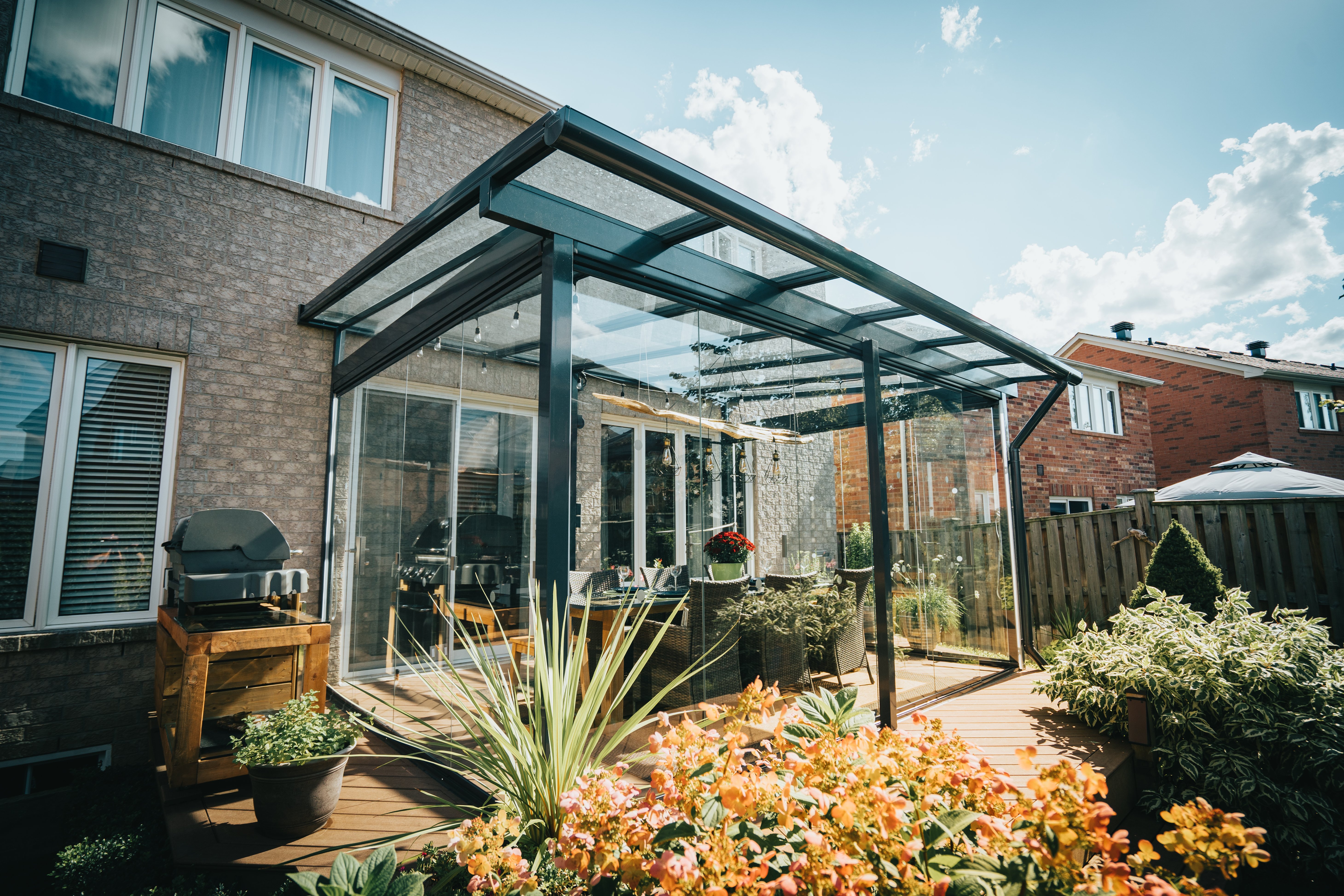 For example, in colder areas, such as those which we have in Canada, the piers (or the below grade, i.e., ground, frost wall) should reach a depth of 4 feet in order to avoid heaving. This is due to the fact that the frost line goes down to 2 ½ feet. It is important to consider the frost line in your region, and to make sure that your decking option accounts for that. Our Design Consultants can help you to solve all your foundation questions - book a free consultation now to start building your dream sunroom oasis.
Wooden deck
If the foundation of your deck is sturdy and stable, a wooden deck makes for a great option. For example, cedar decking makes for a great-looking and long-lasting solution, which is naturally resistant to insects and decay. Typically, a wooden deck foundation with a pier foundation is the most cost-effective. In this case, the wood structure will always be pressure-treated lumber, to ensure durability and longevity. Pressure treated surface decking, such as cedar decking or other hardwood decking (e.g. Brazilian Ipe) are great alternatives that can be selected on the basis of the budget you have available. Vinyl or composite decking serve also as very popular choices.
Vinyl or composite deck
Vinyl or composite decking is a modern alternative to a traditional pressure-treated lumber deck. It also happens to be probably the most popular choice. One great benefit of of vinyl decking is that as opposed to traditional treated lumber decking, it requires no less maintenance. Also, vinyl or composite decking does not require painting or staining, which often proves as a laborious task. Mimicking wooden materials, vinyl decking is also a durable option. Although slightly more expensive than wooden decking, vinyl decking often requires much less maintenance. What's more, the colours and patterns available are plenty!
Design tip: much like the versatility of vinyl or composite decks, decorating your sunroom can become a fun and versatile activity. Read about our 3 best tips for seasonal decoration of your sunroom.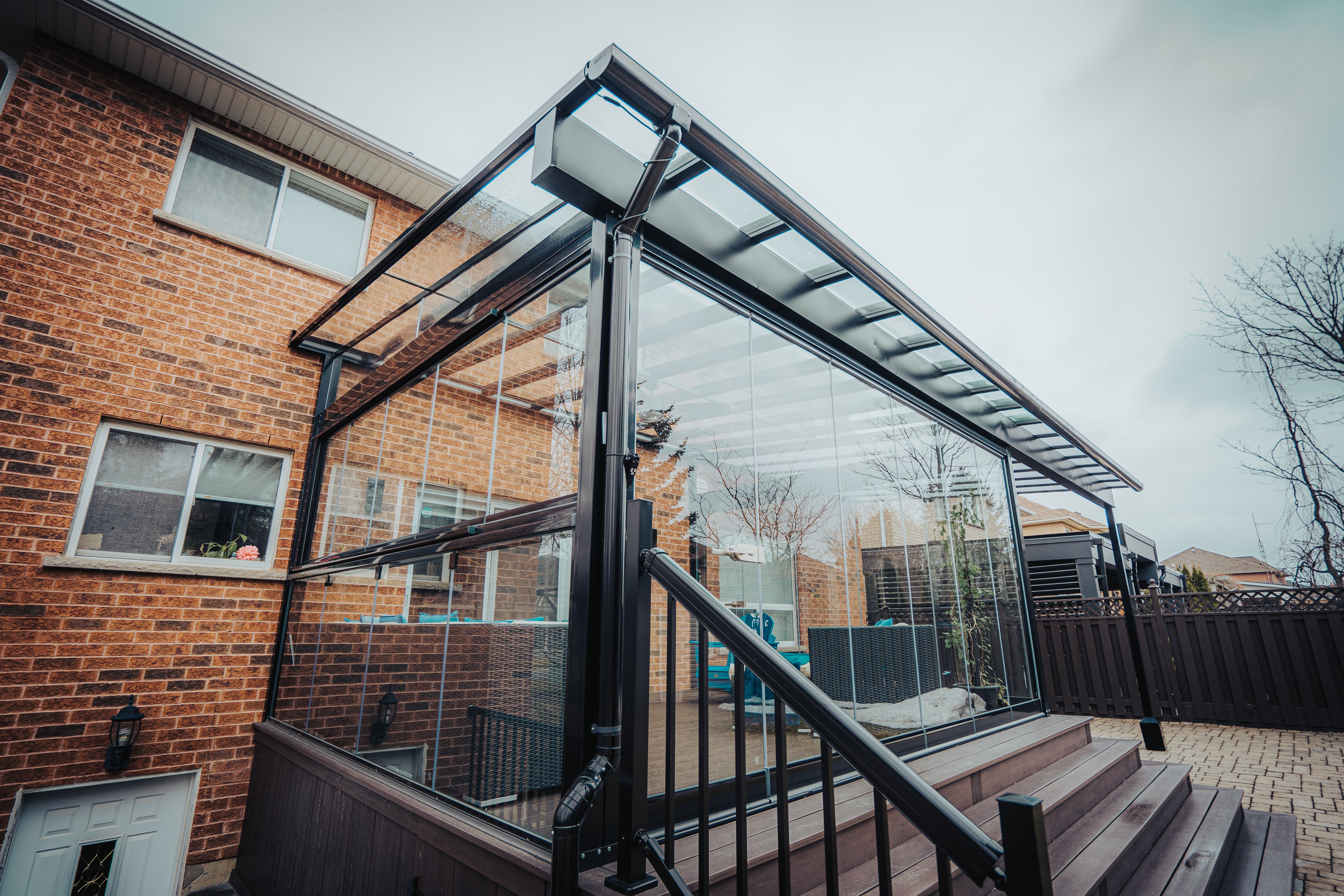 Is your vinyl deck ready for a sunroom? Book your custom quote now to get started.
Why is a deck required to build your sunroom?
Having a structurally sound deck ensures that the weight of the sunroom can be supported by your deck. In Canada, temperatures can vary a lot, and while frost lines may not be a question of concern in some southern areas, in the northern parts of the country the case is certainly different.
Building a deck, and moreover building a sunroom, is a sizeable investment, but one that will transform outdoor living for you and your loved ones (and your pets) for decades to come. Making sure that the 'ground work' is done well, or that your existing deck provides a sturdy foundation, is essential to making sure that your space remains in the best of conditions for as long as possible. Read about the latest sunroom trends!
Lumon's Design Consultants provide you with expertise in determining the suitability of your deck solution for your future sunroom. To ask more questions, get in touch! To get a sneak peek into what you can expect from your free home consultation, you can read more here.