As a Nordic company, sustainability has always been at the core of our product development. With rising costs of energy, home-owners are looking for environmental design solutions that will help with building sustainable homes to save costs. Although many may think that sustainability is costly, the case often happens to be the opposite, especially considering the long-term. By investing into sustainable solutions, you are investing into the long-term efficiency of your home.
One of the great benefits of Lumon's retractable sunroom and balcony solutions is energy savings. Find out here how Lumon helps to reduce energy costs in your home:
Sustainability in the home also appears through the use of timeless design. For example, sunroom furniture should always be purchased with the future in mind. Neutral, weather-resistant furniture can be brought to life through different seasons with colourful pieces, throws and pillows. Various lighting is another great way to spice up the mood in your sunroom. For example, LEDs are a sustainable, long-lasting and safe option. Being in your sunroom brings your daily life closer to nature, and you can even bring nature indoors by decorating your sunroom with seasonal greenery.
Read more in our blog about sustainable décor and lighting solutions!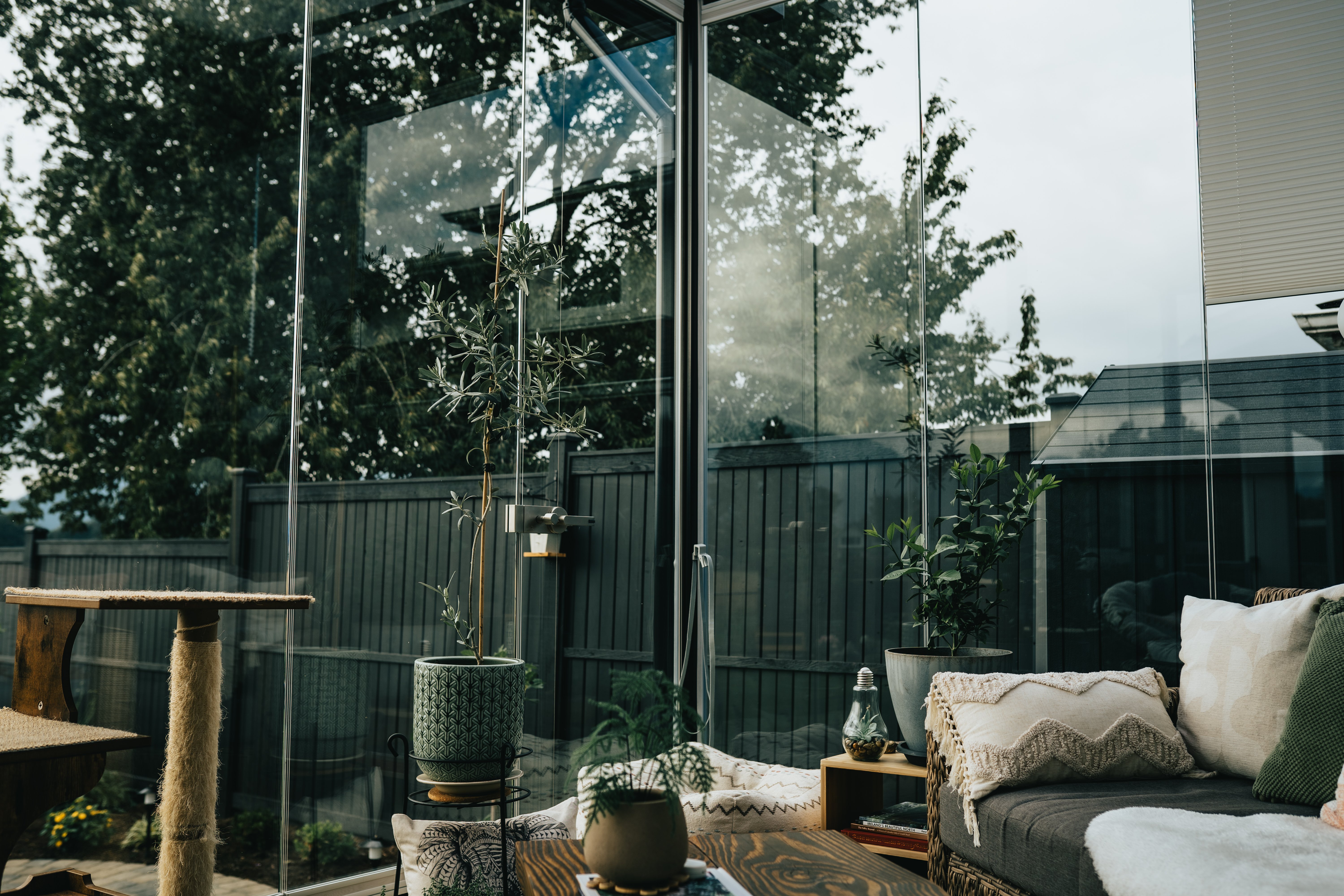 In the Nordics and throughout the world, glass is considered a timeless and classy solution. With Lumon's easy-to-use retractable rooms, you are not only adding to the space and comfort of your home, but you are investing in a part of your home that adds to the character of the façade of your home for decades to come.
Why sustainable homes? Sustainability is an investment into the future. Often, the sustainability of your home starts with the exterior. Making use of the sun's energy, having double-glazed windows, and ensuring proper insulation are all parts of a start to saving on energy costs.
A sunroom stores the energy of the sun, and acts as a buffer whether it comes to the need for cooling or heating. In addition, when you are having your morning coffee in the sunroom... you are harnessing the power of Vitamin D while sitting comfortably inside your room! In addition... the system is easy to use.
See for yourself by watching the video below:
Are you ready to start building a sustainable home for yourself? Book a free consultation with one of our Design Consultants to make your outdoor living dreams come true. Here, you can discover what you can expect from the free home consultation!
Choosing Lumon is a green act.
With ❤️,
The Lumon Team