Lumon's simple but versatile product line offers solutions for many different kinds of homes. With the help of our Design Consultants you will also receive personalized recommendations for the best solution for your home. If you're still unfamiliar with Lumon's product line, this blog will tell all you need to know about our various products and which kinds of projects they are best purposed on. You can also skip to any section of specified products from the links below:
Retractable balcony glazing
Balcony glazing helps to transform your balcony space in your home or condominium into a beautiful outdoor oasis. Especially in city homes, this extra usable space is greatly appreciated. Alongside extra usable space, the glazing also protects the façade of the building, reduces noise by up to 50% and helps to save energy by providing a buffer space between the outdoors in indoors.
Consider this option if you're installing a sunroom on a second-level floor (or higher) or if you already have a waist-high structure in place. From the perspective of architects, property developers, business owners and condo boards, the Lumon solution is especially appreciated. In addition to the benefits mentioned, some additional reasons that contribute to the value of balcony glazing include:
Meets all zoning requirements across Canada
Uses only the highest quality materials backed by extensive testing
Has been installed in hundreds of thousands of properties around the world
Reduces maintenance costs
Protects balcony concrete from deterioration
Increases overall building value
Maintains overall building look
Contributes to LEED certification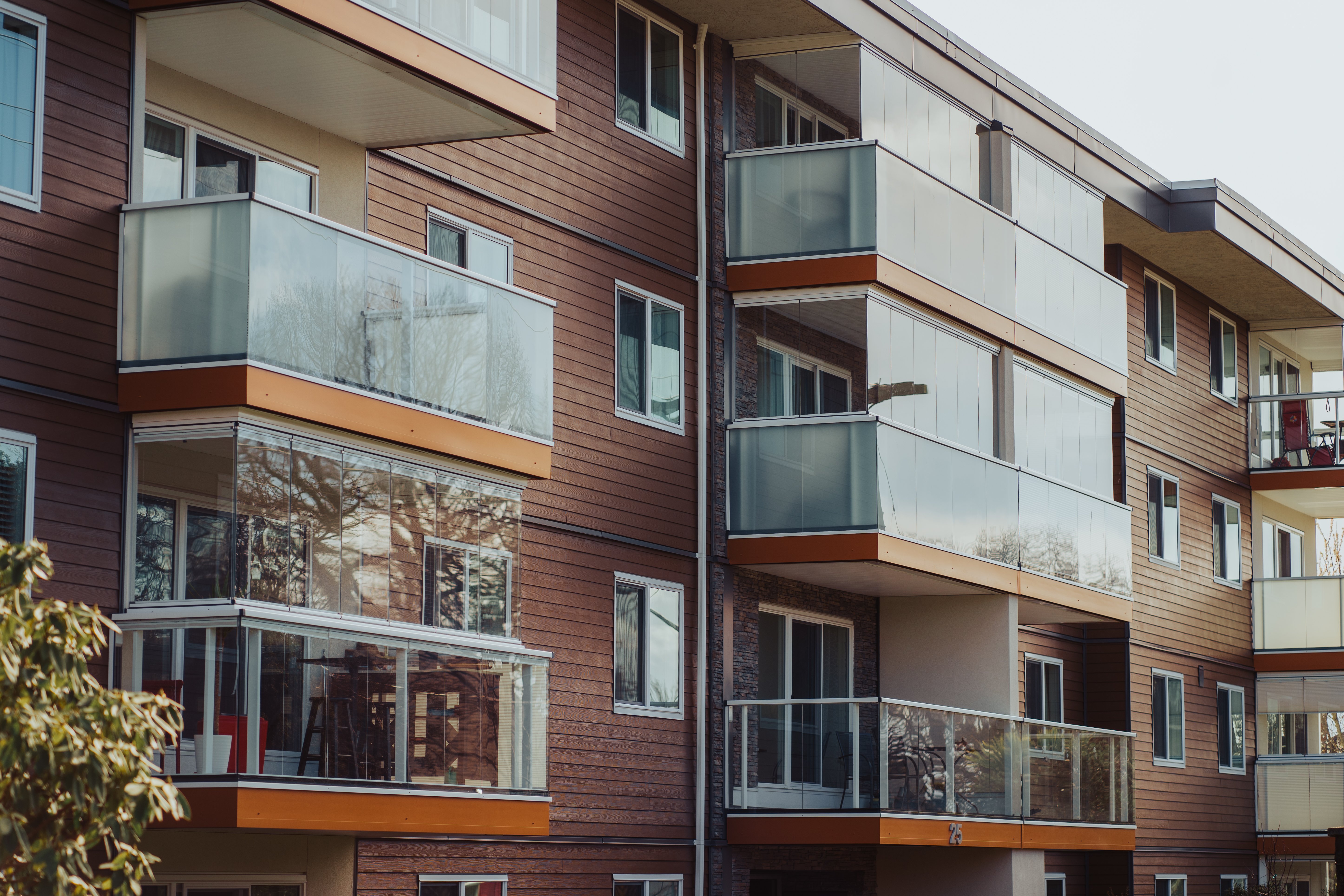 Lumon's solution provides a classy end result for balconies
Retractable sunroom glazing
Would you like to put your patio to better use? Lumon's retractable sunroom glazing provides the ultimate solution for residential homes - for the empty patio in your backyard or an unused front porch area. The frameless design of this system also adds to its elegance.
To install, a horizontal aluminum profile is mounted into the ceiling, and a low-profile track runs along the ground. Tempered glass panes measuring eight, 10 or 12mm thick are then fastened to these profiles. This sunroom provides you and your family with more usable space in your home that allows you to spend more time outdoors nearly all year long!
When thinking about transforming your outdoor space, it is important to consider what the space will be utilized for. For example, if you want to ensure that there is enough space for 6 to dine in the middle of the sunroom, or if you want there to be space for your children, grandchildren or pet to play around, you want to make sure the layout of the sunroom allows for your needs. It's a good idea to voice even preliminary ideas to the Design Consultant, so the walkways and empty spaces are well-thought-out!
The retractable glass solution is optimal because of just that, its retractability. On a hot summer's day, the panels can be left open or cracked to have a nice breeze coming in, while on chillier autumn days, the space can be completely closed to enjoy cozy moments in the sunroom. The panels effortlessly retract to the side, and even when closed, the seamlessness of the design allows you to enjoy the nature around you.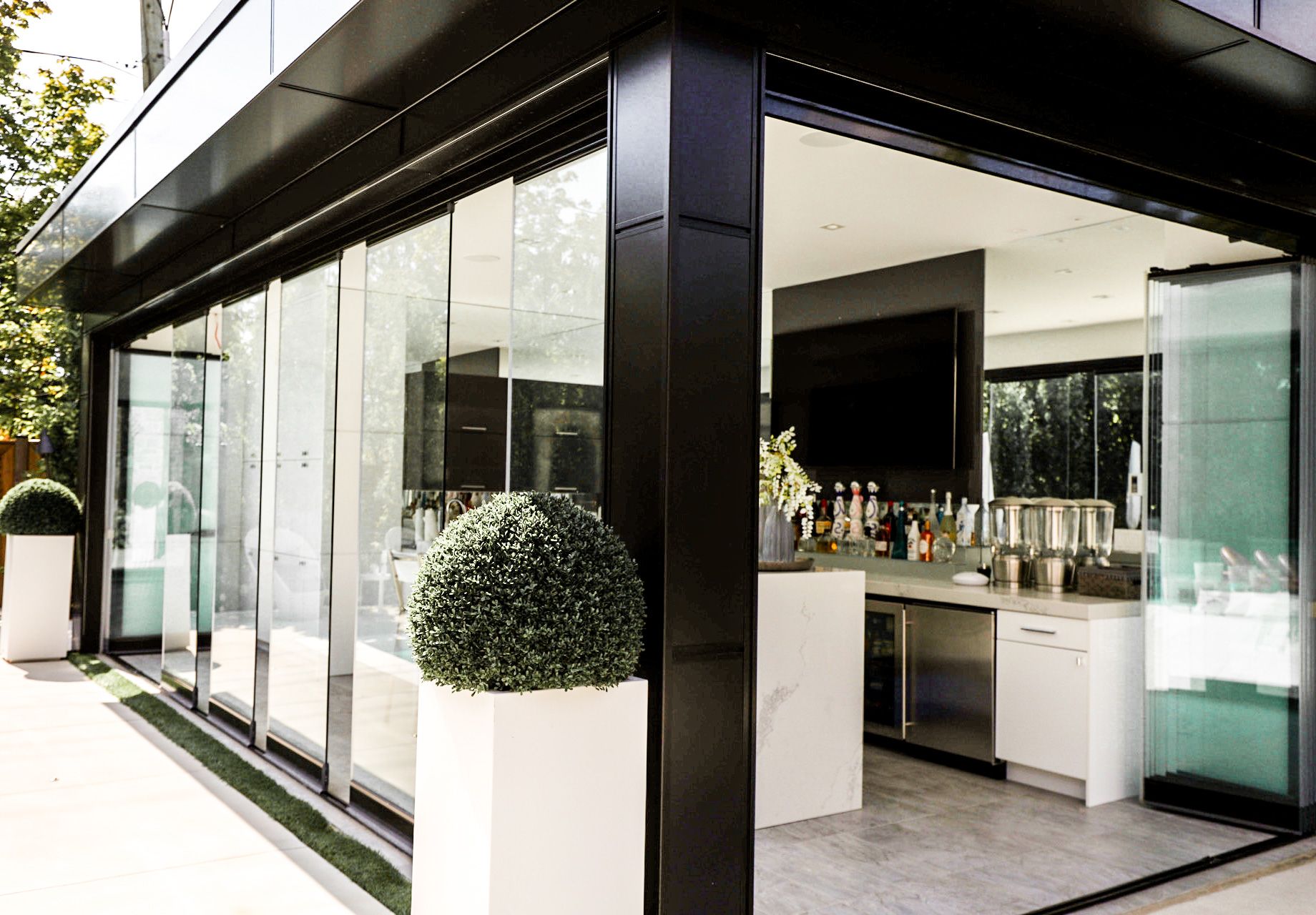 On a warm day, keep the panels open!
Sliding sunroom glazing
Sunrooms with sliding patio glass are the best option for small spaces with little room to fold open the retractable patio glass. The glass panes slide along a series of tracks without folding out.
Tempered glass panes measuring 8mm - 10mm thick are fastened to profiles on the ceiling and the floor. The glass panes sit in a slim and minimal frame, leaving no gaps between panes.
The design of this system provides an overall sturdier look to the sunroom, but even with the frames, the solution adds an elegant touch to the façade of the home.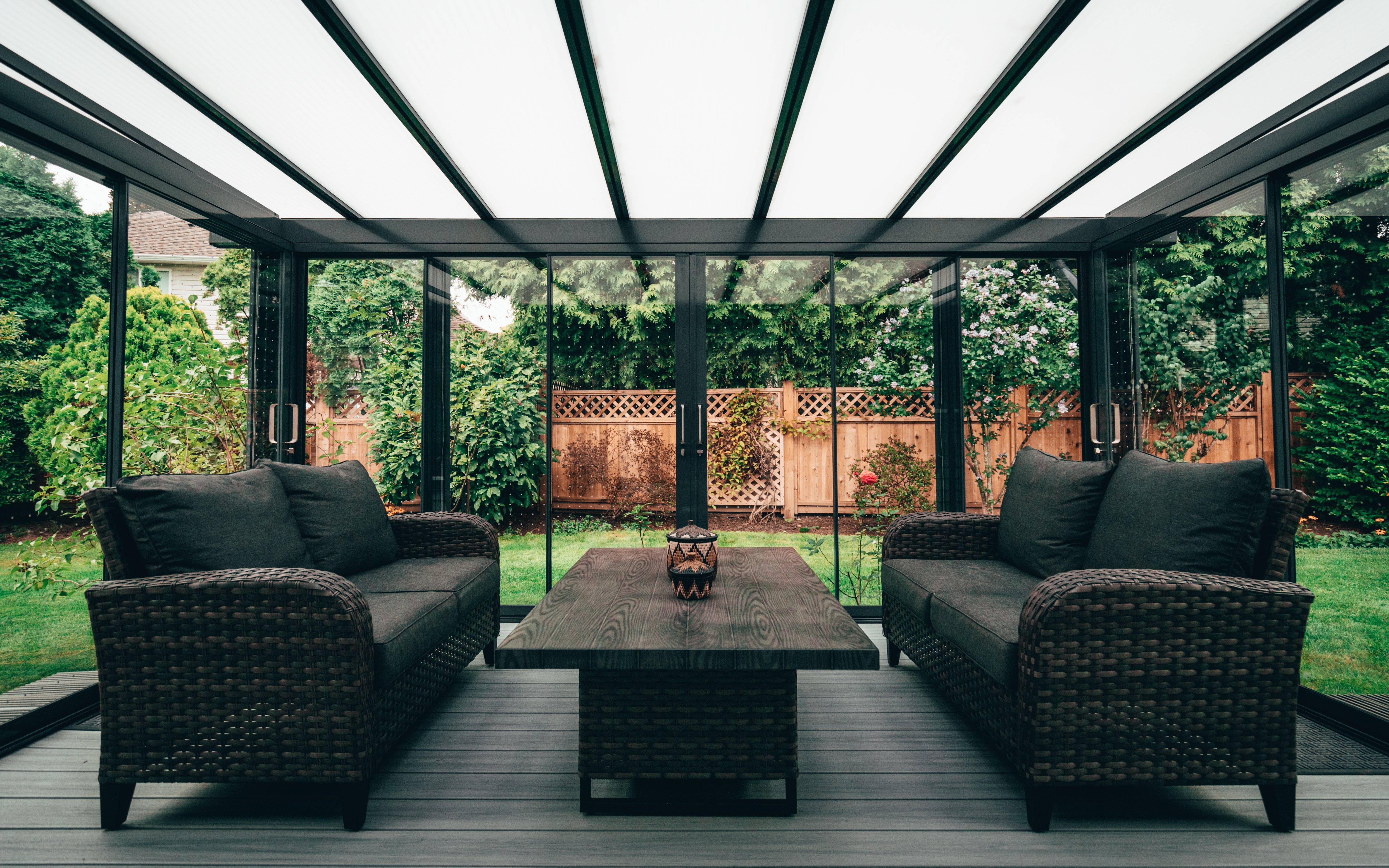 The sliding glass solution adds additional geometric design to the room!
Patio covers
Lumon's patio cover solutions are best paired with retractable or sliding glass walls, but what's best about the covers is that walls can be implemented later on if, for example, there's not a budget in place to complete the entire project at once. The versatility of the solution when it comes to its implementation is truly a great benefit.
Lumon's patio cover solutions protect from the harmful UV rays of the sun, while also protecting the space from the elements. With Lumon's glass roof, you can also enjoy starry nights or watch the pitter patter of rain from inside.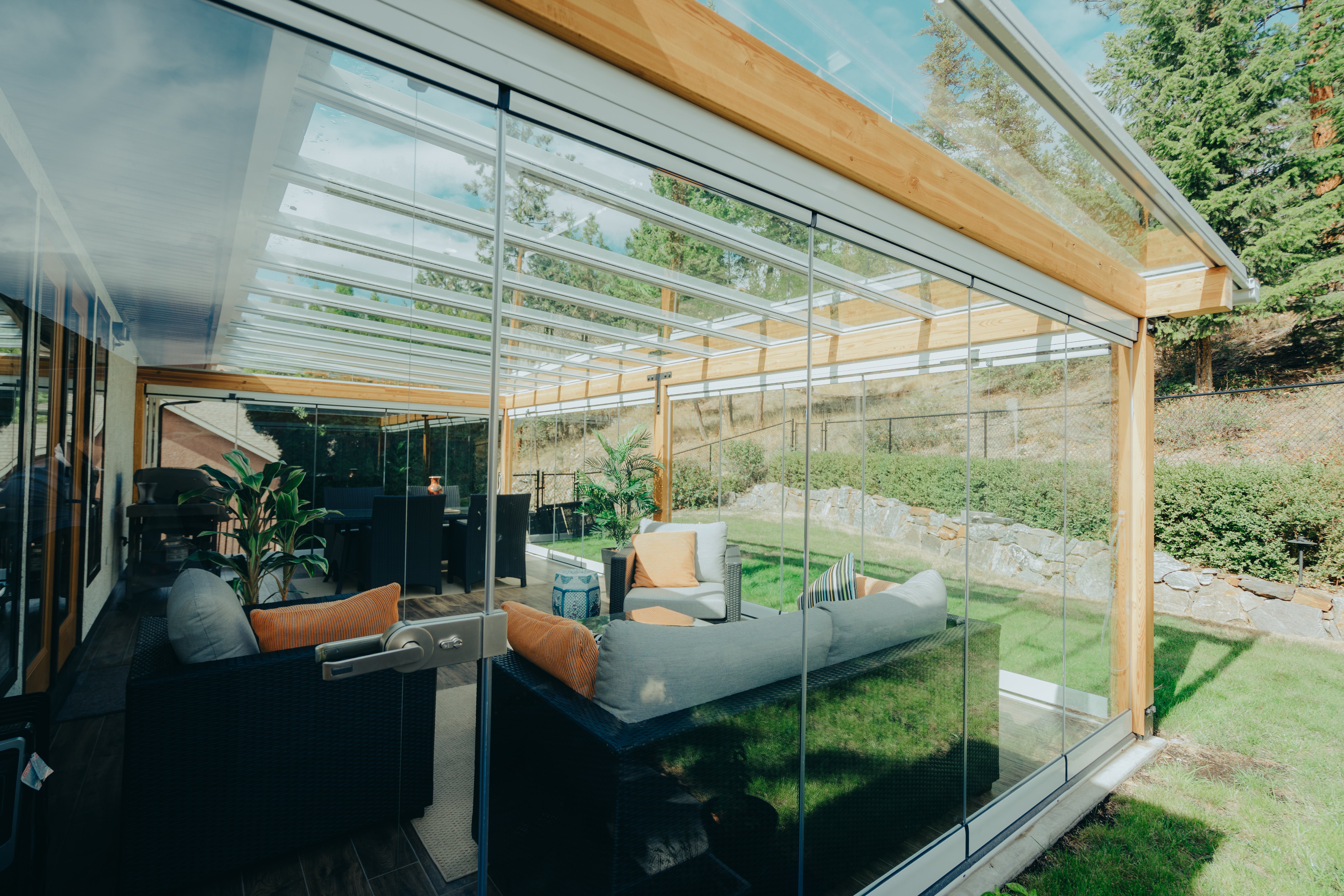 Go stargazing in your sunroom!
---
Do you still have questions on what could be the best fit for your home? Get personalized tips from a Design Consultant near you and start your journey to putting your outdoor space to better use!