Although many of the tasks associated with spring cleaning can be exhausting, sunroom cleaning is not one of them.
All it takes is a few minutes each spring to give your sunroom some tender loving care, and you will enjoy it for many more years.
If you've invested in Lumon, you must have used your sunroom all year long. Congratulations, you're already one step ahead as you don't have to deal with a sunroom that's been sitting idle for the last 2-3 months! This is also an opportunity for you to add a little splash of spring colors in your sunroom decor. You can get more seasonal tips here.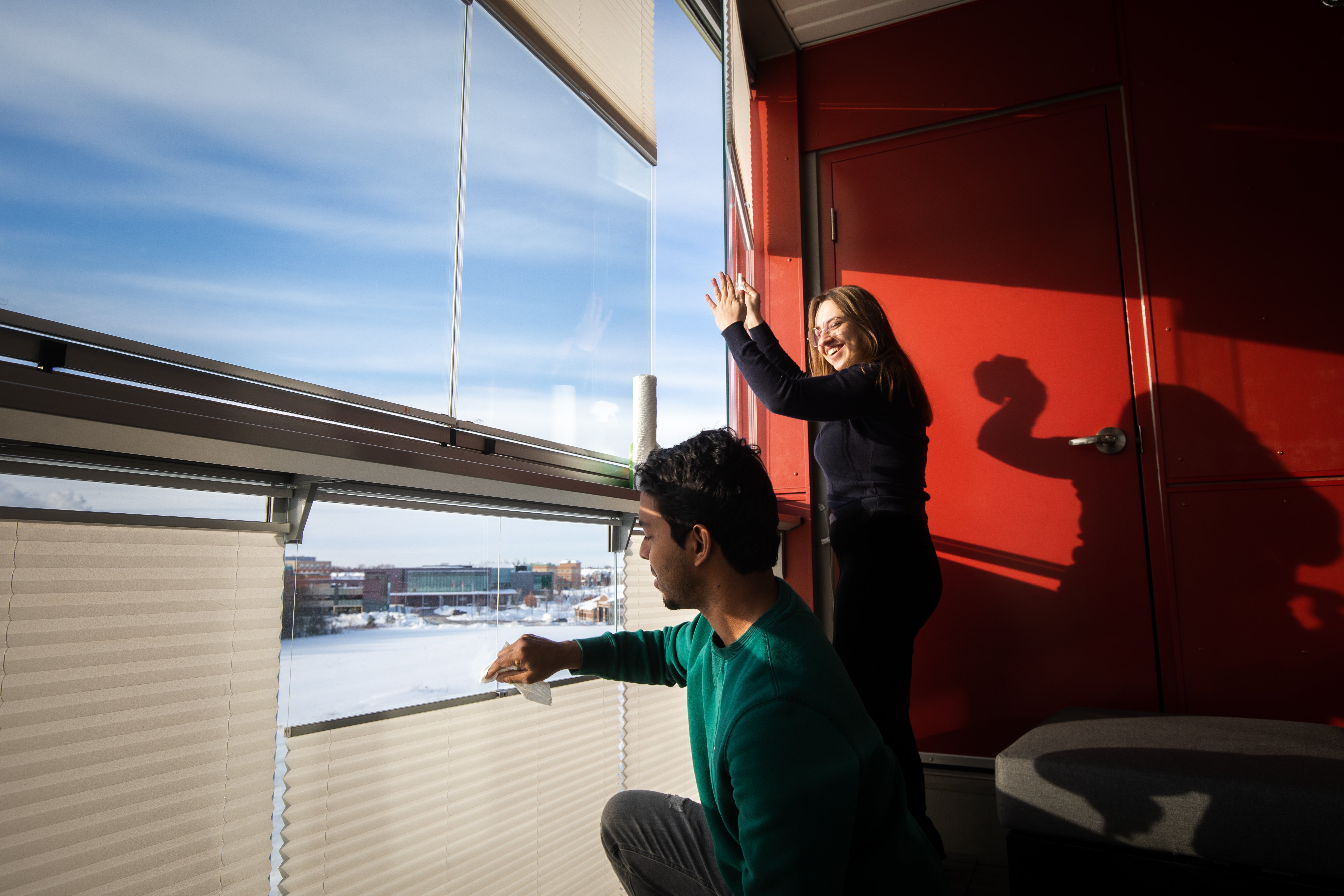 Let's start with a list of all the things you'll need for your sunroom cleaning session!
Vacuum
Squeegee
Any household window cleaner
Damp cloth
Microfibre Polishing cloth (optional)
Now that you've made sure you have all the things you need, let's get right into it! A sunroom is made out of three main components: glass panels, aluminum profile and tracks. Let's see how we can focus on these components individually.
Cleaning the Glass panels
You'll be surprised at how much dirt accumulates on both sides of the glass, which will gradually reduce the amount of light that comes in if you don't clean it.
To remove the dust, use any store-bought window cleaner, or if you're trying to go green this year, simply mix white vinegar and water. Wash the glass in an up-down motion, and at the bottom in a horizontal manner. You can then dry the glass with a squeegee.
If you plan to dry your glass with a microfiber cloth, the cloth when combined with water, breaks up and removes grease, grime and bacteria as well.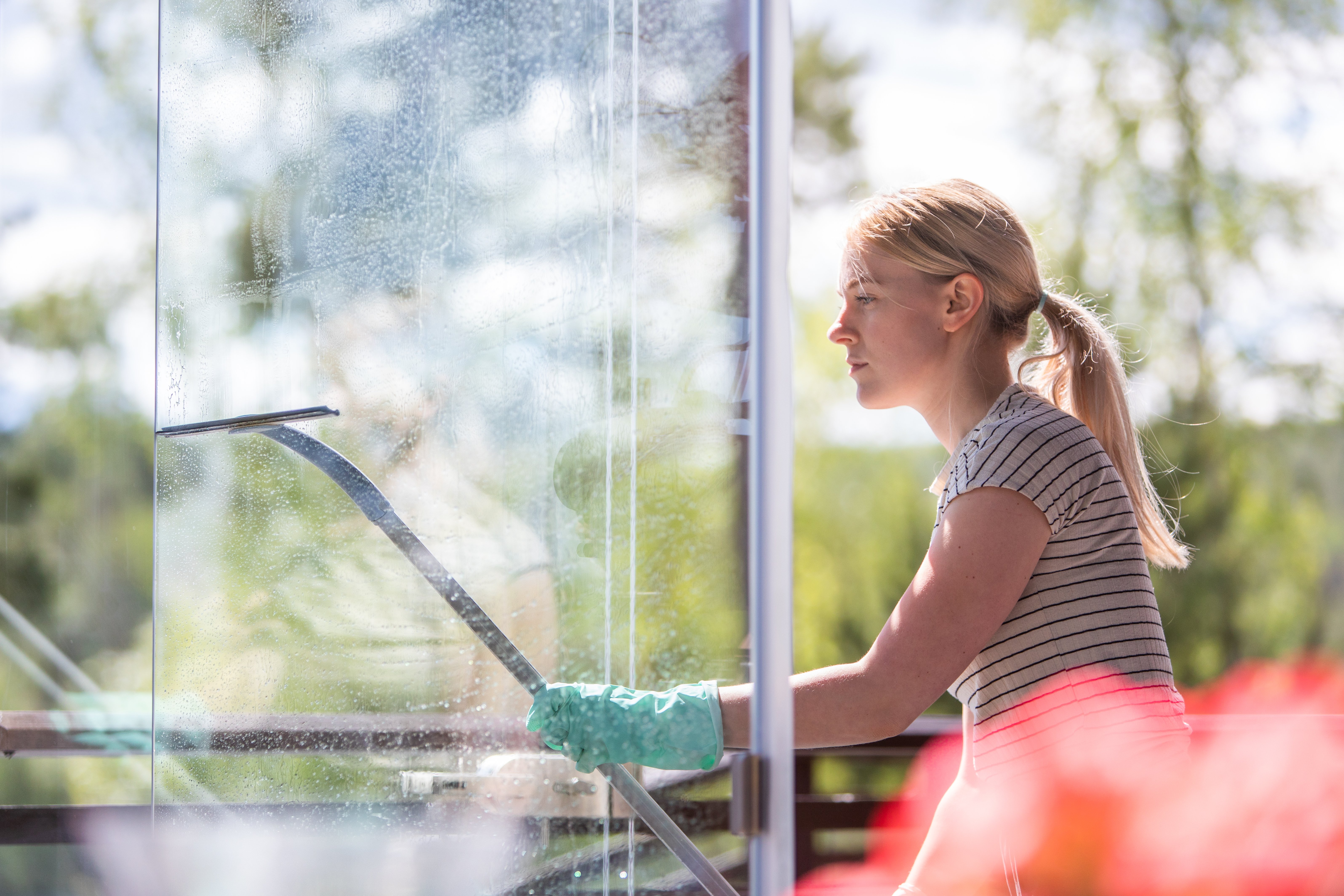 Cleaning the Aluminum Profile
Our aluminum profile is fairly resistant to dirt and grime; however, to keep your sunroom screens looking like new year after year, they do need cleaning to ensure a fresher look. To clean this component all you'll need is an all-purpose cleaner and a damp cloth. Apply the cleaner and gently scrub the profiles with a damp cloth until they are clean. Make sure to avoid any sharp objects.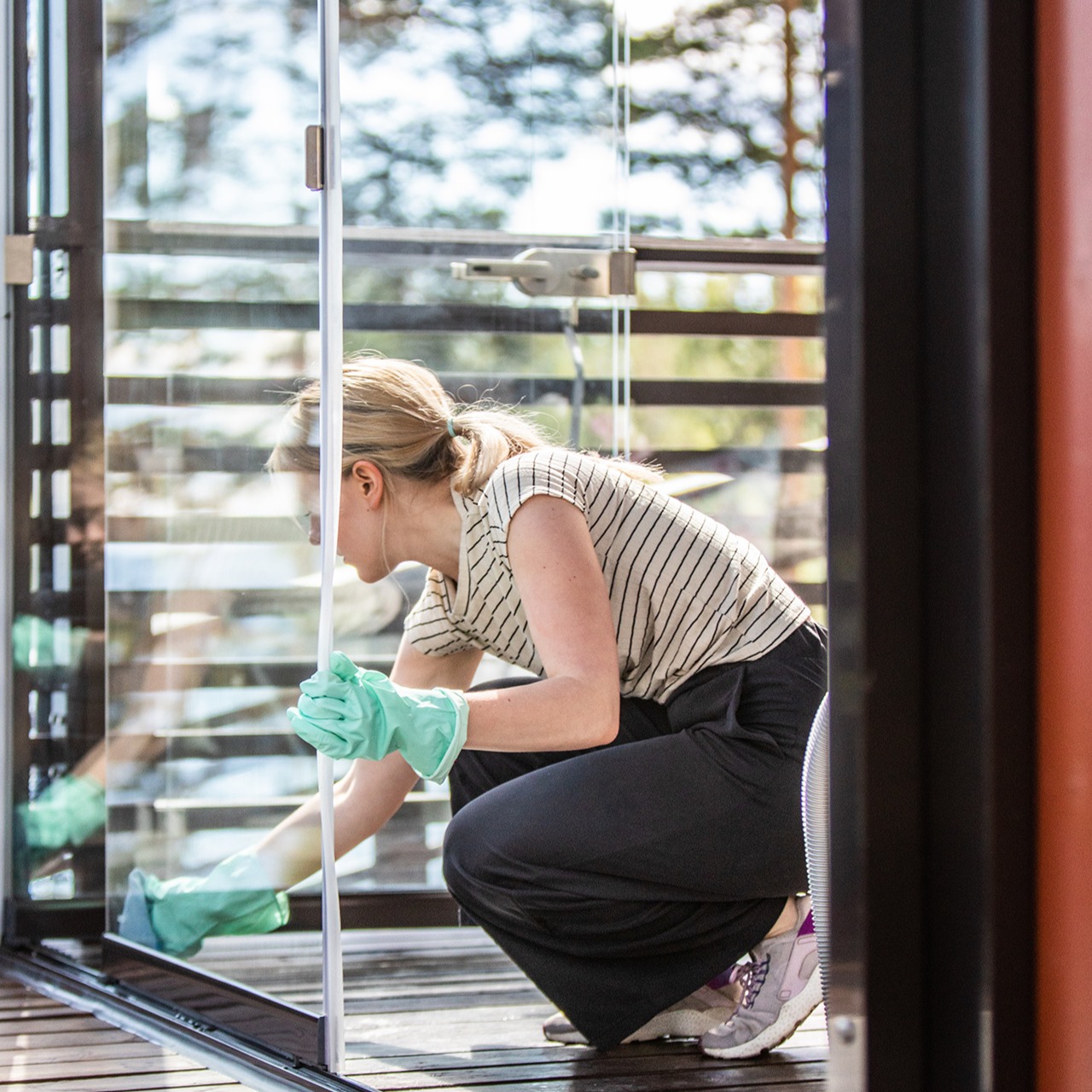 Cleaning the Tracks
Your sunroom is literally your backyard oasis. You want to make it as easy to use as possible. The tracks that your doors slide or open on, on the other hand, are the easiest place for dirt and grime to accumulate, thanks to the wind and foot traffic that deposit there on a daily basis. If not cleaned regularly, these can clog and make it difficult to open your doors.
A great spring cleaning task is to use a thin vacuum attachment to get right in between the rails. You'll want to go over the tracks with a cloth afterwards to remove any remaining dirt. The best practice will be to regularly vacuum the bottom tracks of the glazing system. When walking in and out of your backyard oasis you should not feel any resistance, and cleaning your tracks regularly will do just that!

Add some more spring charm
Yieeee! You did it! The work is all done now. It's time to make your sunroom pop with Spring colours! The transition is amazing from winter to spring, make sure your sunroom decor tells the same story! Now you're all free to use your space with your loved ones! Use it as a dining room or maybe an entertainment room, the possibilities are unlimited!