Depending on the location of the sunroom on your house, your outdoor space may be exposed to a lot of sunshine. That being said, your sunroom can get quite hot, especially in the summertime. Retractable sunroom walls are a great solution to ensure that you can get sufficient ventilation into the room, no matter the season. Retractable solutions also help to ensure that there is no excessive moisture build-up in your room.
However, even with retractable walls, the sun can sometimes feel a bit excessive. If you are trying to enjoy an evening dining outdoors, the rays of the sun can be a bother. The best solution for this is to invest in sunroom blinds or curtains, which can be adjusted to ensure you can keep the sunshine at bay when you so desire. Blinds are also great for adding protection to your outdoor space.
Adjustability leads to usability
With sunroom curtains or blinds, the key characteristic is that they are easily adjustable. The angle at which the sun hits your sunroom can change a lot over the course of the day, and it is important that the blinds allow for covering only a section of the glazing - so that you can still enjoy the flow of natural light. The best is to have blinds that can be adjusted from either top or bottom. You can read more about Lumon's blind solutions here.
A great aspect about Lumon's integrated blinds is that they can be added to the retractable glass panels or roof even a while after installation.
Added privacy
Especially when autumn begins to approach, sunroom curtains or blinds are often a much-desired solution, as the sun sets earlier and your space becomes increasingly visible if lighting is in use. You can find our best tips for lighting in the sunroom here. Enjoying a private evening in the sunroom may be difficult in this case, especially if neighbours live right next-door. Blinds help to ensure that you can adjust your need for privacy as you wish, so you can enjoy a dinner night with friends or family comfortably.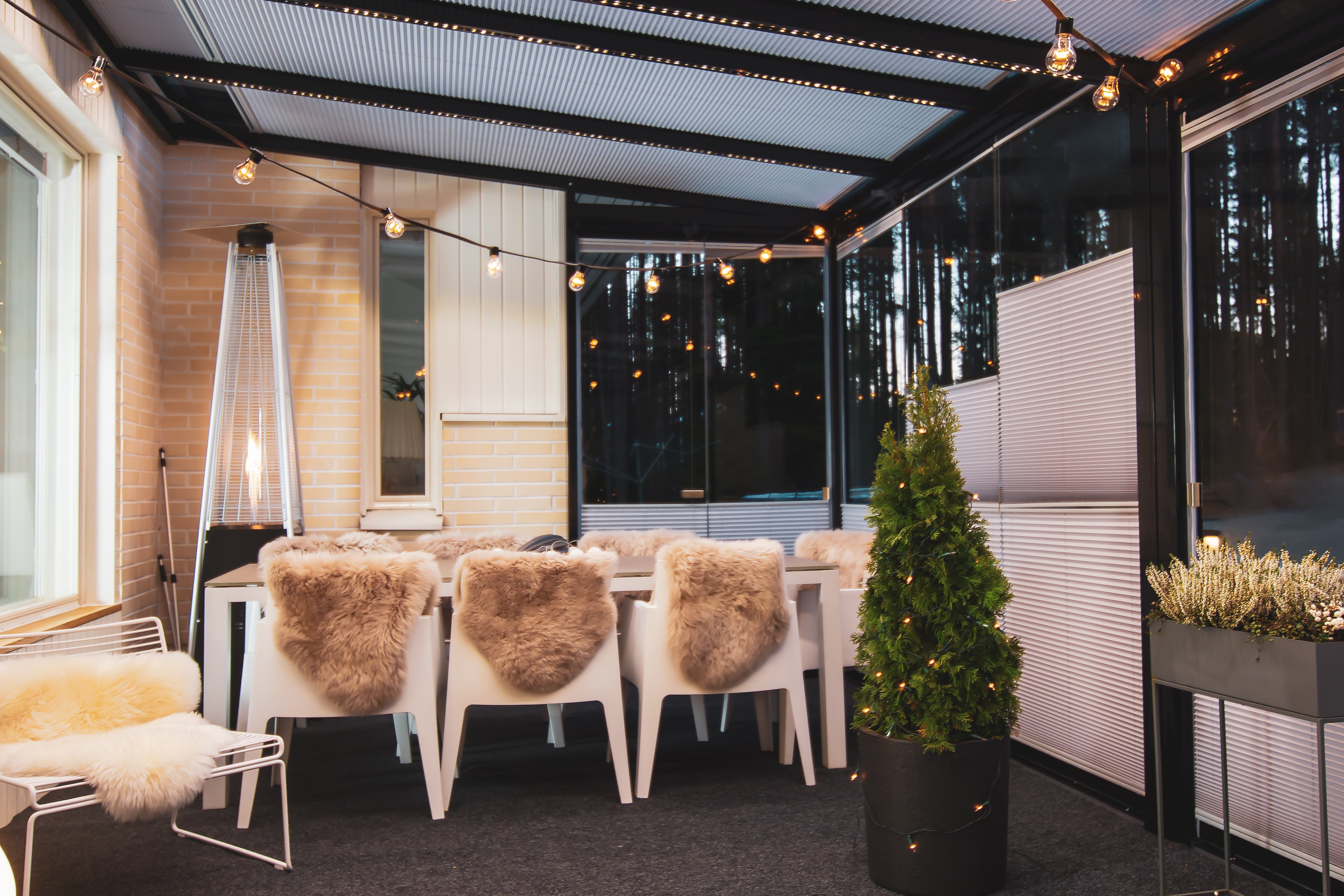 Enjoy privacy in your sunroom, whatever the season!
Blinds as a design element
Sunroom curtains or blinds can also work as a significant design element for your room. With a classy sunroom, the last thing you want to do is to take away from the elegant look with blinds that don't match. Lumon's blinds have the colour options of transparent grey, non-transparent grey, transparent white, and non-transparent white. These classy and neutral colours will ensure that your room looks just as pretty with or without blinds.
To learn more about Lumon's sunroom and blinds solutions and to ask all your questions, check out our events page to see if there are any open houses happening in your area!
Are you ready to get started on building your outdoor dream? Discover what a free design consultation looks like here, and get ready to build more room for all the activities that you love - with an added privacy element.
With ❤️,
The Lumon Team
Better homes | Better life | Better world
More room for life.