Installing a patio cover in your backyard is the first step towards maximizing the beauty of outdoor living. The trick with patio covers is to ensure you are investing in a durable cover, but also one that will allow you to maximize the benefit of natural light. For this reason, patio covers that completely block the benefits of the sun are not necessarily the best solution. It can be considered that the benefits of the sun reach far beyond the patio space. For example, if the patio cover offers too much shade, the space of the home behind the patio cover will not receive much sunlight either.
The best patio covers are ones that offer natural light, protect from UV rays, and ones that are durable enough to protect you from turbulent weather.
Glass patio covers
Glass patio covers are great, because you get to really enjoy the weather outdoors. Imagine watching raindrops fall on your patio cover, or basking under blue skies. Glass patio covers enable you to surround yourself with nature, and to really maximize the enjoyment of the changing colours of the earth. They are also a sustainable solution.
Glass patio covers are durable, but elegant. They add an edgy Nordic design to your home, without taking away from the character of the home. Lumon's glass patio cover solutions have also been tested for snow loads, and any other crazy weather that the Canadian climate might bring with it.
What about the frame? Aluminum is a great material for the frame, as it can be coated in various colours, is resistant to weather, and is durable.
If you think the sunlight is too much, Lumon also provides roof blind solutions, so that you can stay away from direct sunlight, if you wish!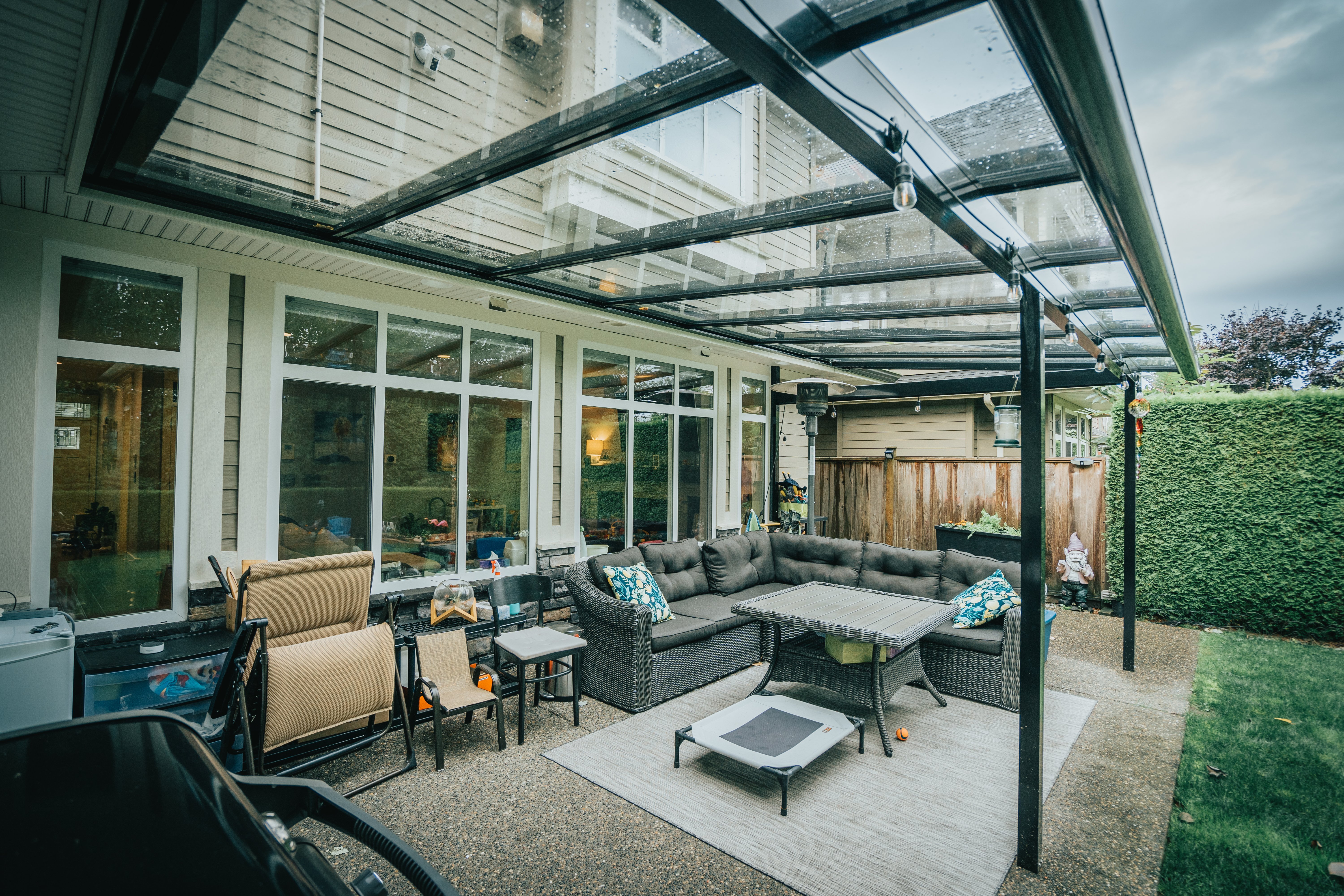 Stay protected from the rain with a glass patio cover
Acrylic patio covers
Acrylic patio covers are also a great solution in extremely sunny areas. Not completely opaque, acrylic cover solutions let the sunlight in, while providing great protection from harmful UV rays. In other words... you can't go wrong with an acrylic patio cover!
Acrylic is considered a better material than plastic, because it does not get yellow and brittle over time. Engineered in Germany, Lumon's acrylic patio cover solutions are a great idea to begin maximizing the use of your outdoor space.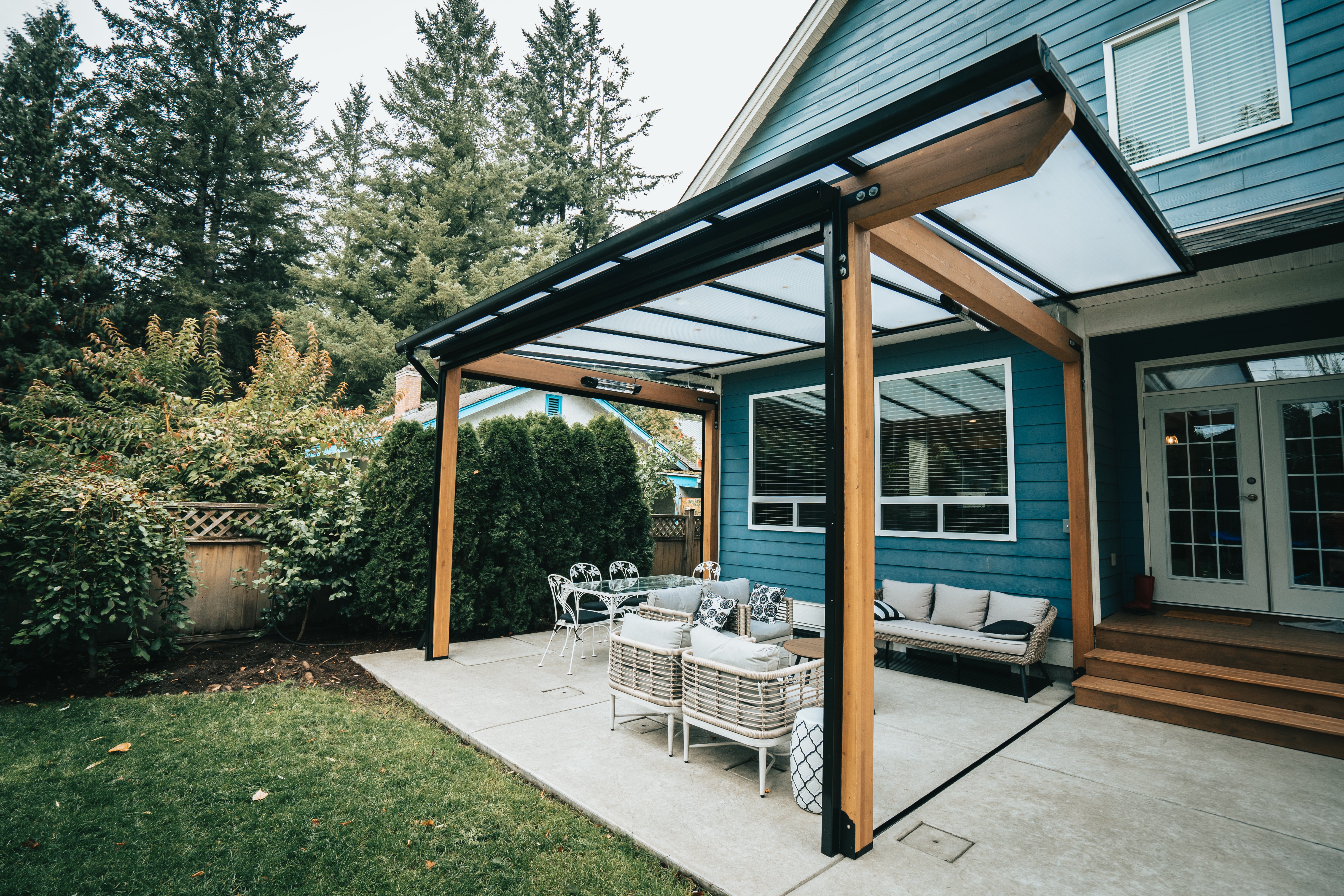 An acrylic patio cover provides protection, while allowing the natural light to come in
Even more enjoyment out of your patio cover?
Are you wondering how you can get even more enjoyment out of your patio cover? Sure, you're being protected overhead from non-pleasant weather, but the wind, rain and snow are still bothering your time spent outdoors.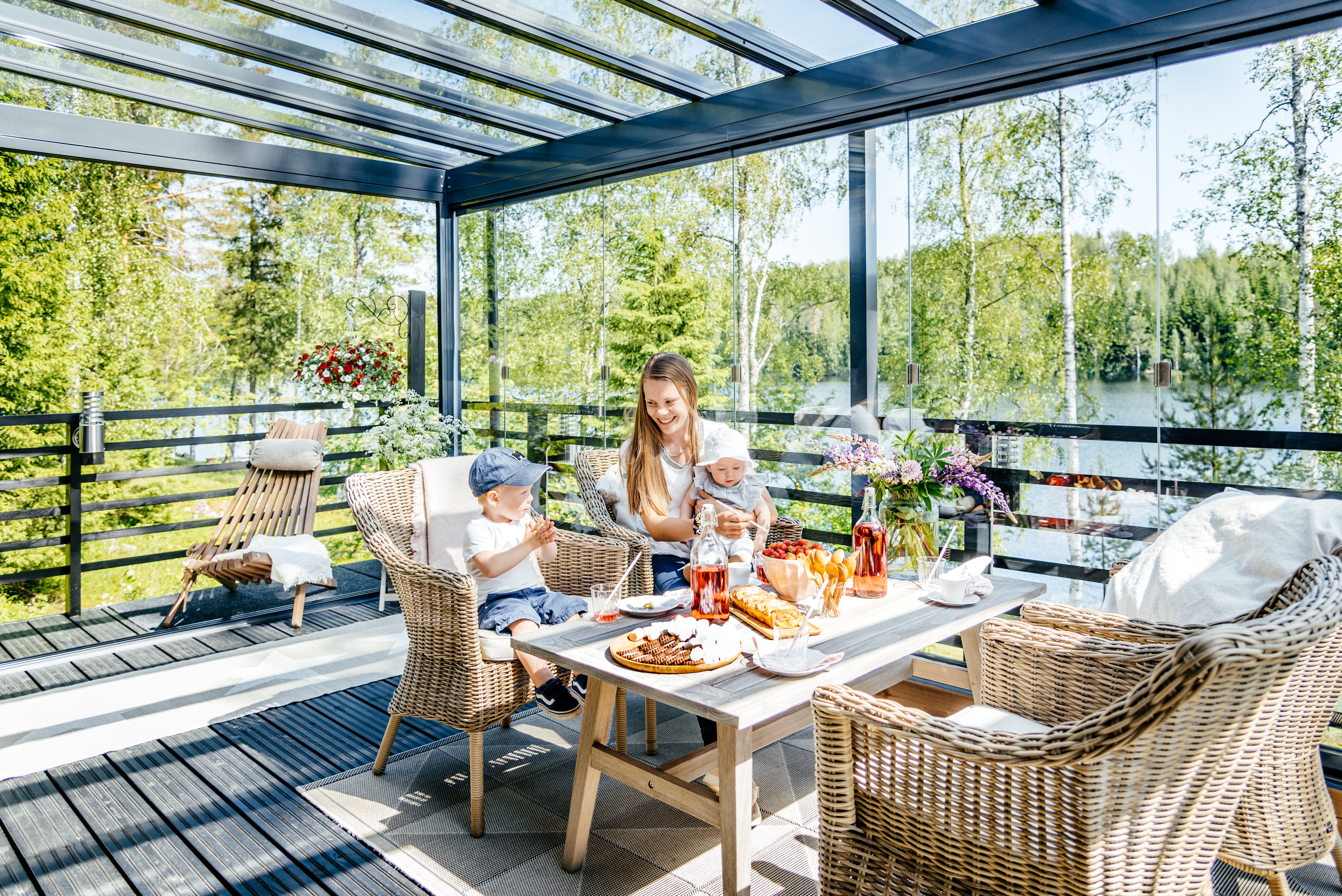 More summer in the sunroom
Installing surrounding retractable glass walls is a great way to add even more life to your backyard. When the wind, rain or snow starts to come... just close up the walls, sit back, and relax. That way, your outdoor furniture stays protected as well. Start building your outdoor oasis today by scheduling a free consultation with one of our professional Design Consultants.
Here you can hear the experiences of our customers on how having a sunroom has changed their life... for the better!
Don't know what to expect from your free home consultation? Read more here.
With ❤️,
The Lumon Team
Better homes | Better life | Better world