Energy costs are rising around the world, and we're all wondering: what can I do to save on energy costs, while still upkeeping a comfortable lifestyle? The way light enters your home, as well as insulation has a lot to do with how energy is stored inside your household.
One often not thought-about solution is the addition of a sunroom space. Did you know that at best, this can help to save up to 7% in energy costs? Essentially, the sunroom space is a buffer area between the home and the outdoors, which reduces unnecessary ventilation, and which actually stores energy in the colder months, so that the need for heating decreases. The space also acts as a wind buffer, so that cold streams of air are kept out of the home.
So how does a sunroom space actually help you to save energy at home? Let's take a look at three core ways.
1. Store energy, add comfort to your life
There are many ways in the world to make your home sustainable. Often, though, these elements may add to the sustainability of your life, but not to the actual comfort of it. Think of an energy-efficient tap for example... the usability of it does not differ or enhance your life in any which way. However, something like this is still a better choice in terms of its sustainability. But what if you could have added comfort at the same time as added energy-efficiency?
That's what a sunroom space helps you to do. In addition to you getting an extra room to your home that can be retracted open when weathers are favourable, the space actually stores heat in the winter, and keeps away excess heat in the summer. This reduces the need for heating and cooling, depending on the season. Plus, you have more room for the important things in life! Here, you can read our best tips on how to keep cool in a summer sunroom.
2. Make room for sustainability
Saving energy also begins from our understanding of self-sufficiency, and the ways in which we do our best to make our home a sustainable place to be. Having a small garden in your backyard can be a great way to grow some of your own vegetables, and to in this way, offset the carbon footprint in other areas of your life. With rising costs, this is also a great way to save some money. Because a glazed room also extends the growing season for plants, you can actually have your plants outside for most of the year.
Make your sunroom into a green space
3. Allow for maximum light
The power of the sun is great when utilized right. Often times, the power of light isn't considered much when it comes to the comfort of living. Light in the home boosts the mood, but also allows for energy to enter your room. Especially in architectural solutions that are placed in a way which harnesses the power of the light in the wintertime, and in the summertime, has light entering in a way that keeps the home cool, significant savings can be made on both the heating and cooling costs.
Sunrooms can often also block the sun from coming in, whether that is because of their bulky design, or inability to retract. Seamless design in a retractable enclosure allows for light to enter all the way into the home. When glass panels are retracted, you can still harness the full power of the sun in your home.
Did you know that you can use your sunroom in the wintertime as well? Read more about it here!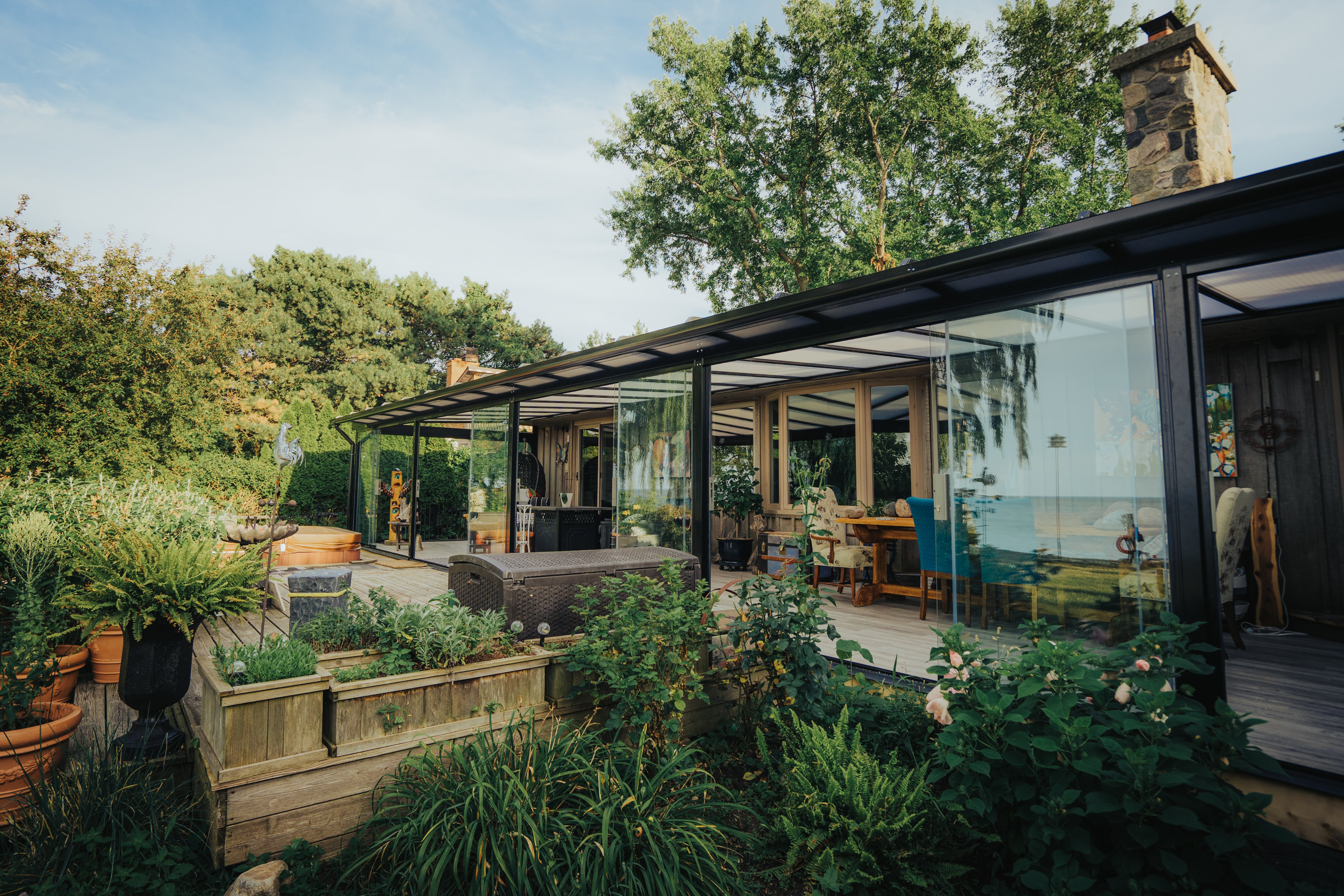 Retractability of sunrooms allows for maximum enjoyment and energy-efficiency
4. Think about materials
The materials used for the building of the retractable patio space also leave their environmental footprint. Glass and aluminum are both fully recyclable materials, and thus by investing in a sunroom solution with these specific materials, you are also making a move towards the future.
A well-designed sunroom solution is therefore not only about design or adding value to your home, but actually, in the long run - saving costs. Book your free Design Consultation today to get started on building a cost-effective, energy-efficient, well-designed and architecturally sound home!
What can you expect from your free home consultation? You can read more about that here, so you can be best prepared for the visit!
With ❤️,
The Lumon Team
Better homes | Better life | Better world
More room for life.