You've ordered retractable glazing for your sunoom... what next? When the decision on installing a sunroom has been made, one would wish that they could be installed the next day. After your thorough design consultation, you probably already have a million ideas of how to put your sunroom to use... which is exactly how it should be! You can hardly wait until its possible to spend more time outdoors, even when its rainy, or the weather is otherwise unfavourable.
Because your sunroom is custom made to fit your space, however, the glazing cannot be ready overnight. The local production at Lumon makes sure that your glazing is cut to the millimeter, so that the sunroom perfectly fits in your back or front -yard. It is important that the foundation work on your patio is done well, as well as the design of the sunroom, so you can enjoy it for decades to come.
You can read more about the ideal foundation solutions for a sunroom here.
Installation of sunroom glazing - the process
The installation of retractable sunroom glazing is a special art, which Lumon installers know well. We at Lumon take care of the entire product lifecycle, including installation. This makes the process of getting your sunroom installation very easy on you. In fact, some of our customers have said that they've been fast asleep in the morning when the installation has been completed. View more of our customer experiences here!
If you are planning to paint or prime your floors or walls before installation, its a good idea to do this well in advance. One of the benefits of glazing is that it protects the façade of your home from the elements, so it is nice to have everything in good shape, so that you don't have to worry about doing repair work for a good while. In this way, you can also get ready to enjoy your new outdoor space right away, instead of waiting for work to be finished.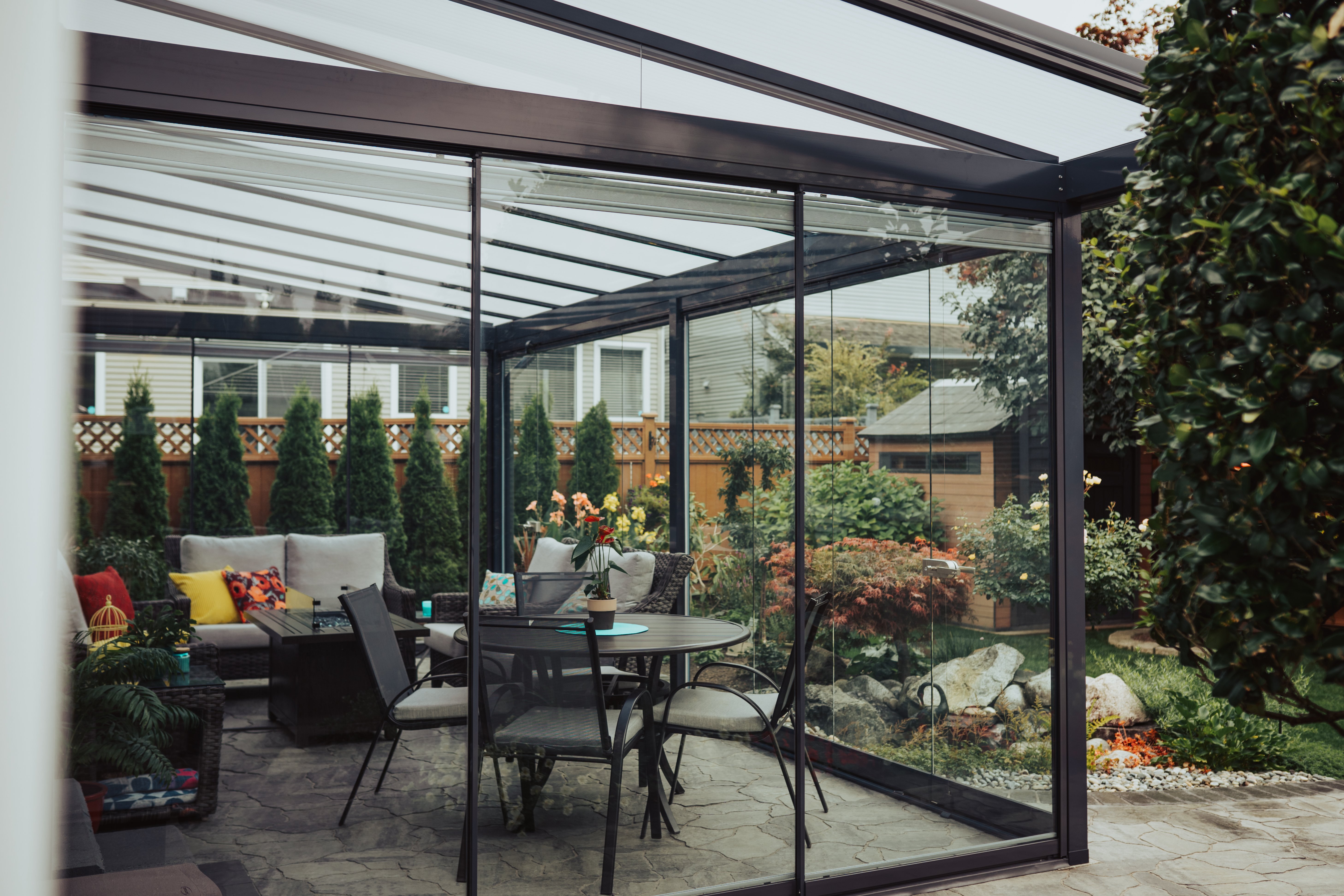 Prepare your backyard for a sunroom installation
Here's how the installation process works:
1. When the agreed upon installation week is approaching, the installer is in contact with you and the exact installation date will be agreed.
2. Once the installation day arrives, make sure there is enough space for the process. It is good to remove any unnecessary items so that our installers can focus on getting the work done. The installer arrives in a Lumon truck, full of all the equipment they might need for the installation process, as well as your glazing order. The glazing order is carefully packaged to avoid damage to the aluminum or glass.
Make sure there's enough room prepared for installation
3. Usually the installation is completed within a day or two, depending on the size of the project. When the installation is complete, our installers show you the operation of the glazing, and gives tips on how you can maintain the glazing, so that it operates effortlessly. Be prepared to reserve a little bit of time for the demonstration!
The glazing is installed - should I maintain it?
The good thing about sunroom glazing is that it does not require any special kind of maintenance aside from cleaning. It is however recommended that maintenance visits are conducted if any issues arise or at minimum every few years, to ensure that you can enjoy your space decades into the future.
Before the installation visit, you'll of course need a design consultation to get the project of building your outdoor dream started. You can find out all about what a free design consultation looks like here! Book your free consultation today, so that you can start waiting for the day your sunroom glazing will be installed.
With ❤️,
The Lumon Team
Better homes | Better life | Better world
More room for life.