Sunrooms are a great way to utilize the outdoors. Whether it be the rain that so often visits Vancouver and the surrounding cities, or the wind and snow that keeps the plastic coverings on the furniture. At Lumon Canada, we believe that optimizing the patio and/or balcony systems is crucial to our physical and mental needs, that is why we developed the Lumon Retractable and Sliding Glazing System.

Here below is a list of some of our favourite installations in Lower-Mainland / Vancouver area.
Sunroom 1. Outdoor Kitchen Oasis
This sunroom features our "LGR" (Lumon Retractable Glazing Solution. Each panel slides independently from one another and stacks at its designated end.
This space is primarily an outdoor kitchen and entertaining space. The flexibility of movable glass walls allows for the barbequing, by adding gaps between the panels, this eliminates the risk of trapping smoke within the space. (For record, we recommend clients open the panels as much as possible when cooking, no matter what the weather conditions are).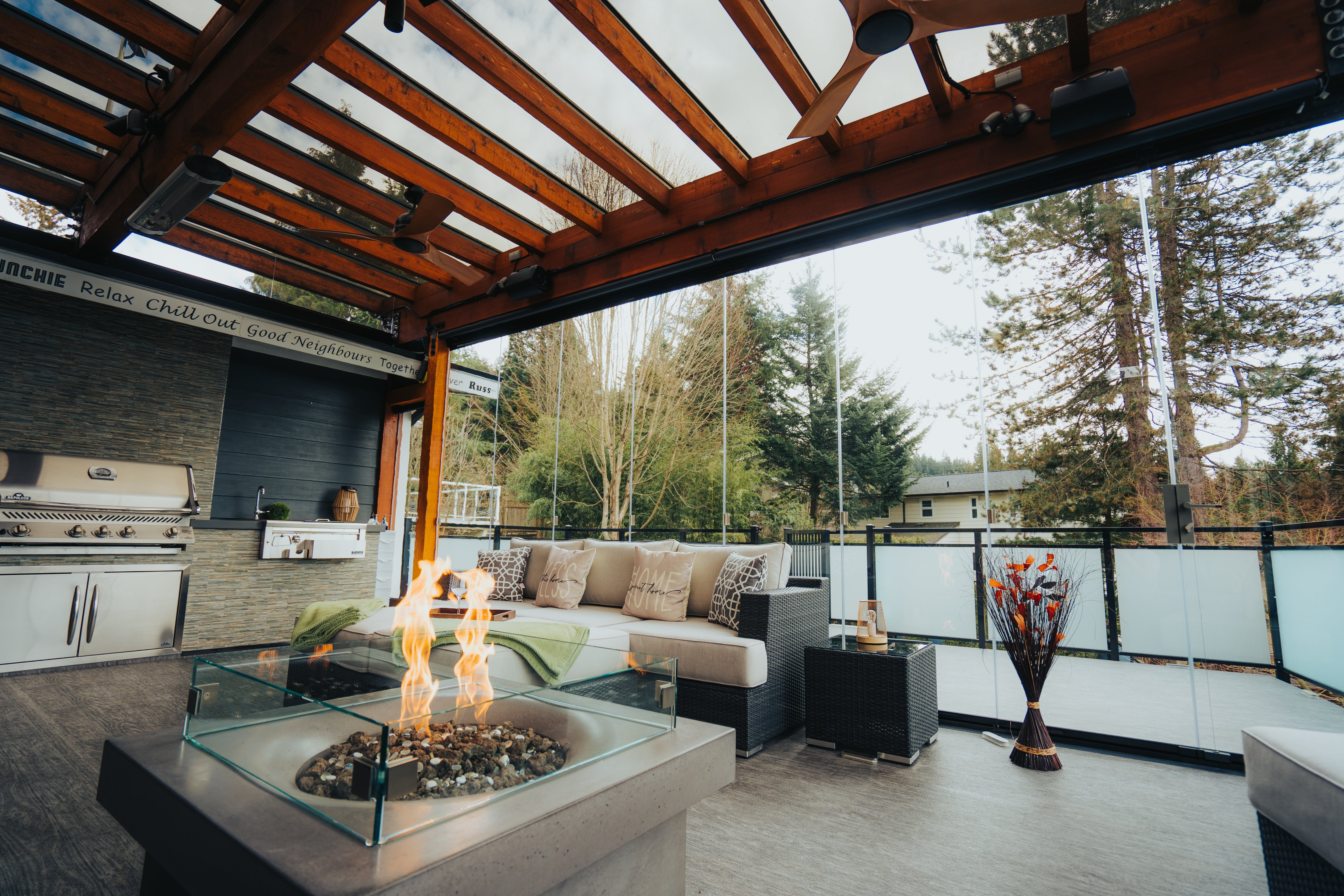 Sunroom 2. Vancouver Patio Re-imagined
This Lumon outdoor living space replaced an older patio cover that had issues with leaking and rust. The owner decided to install wooden posts and beams to match the west coast theme of his backyard and go with Lumon Retractable Glazing, mounted on Lumon Railing.

As Chris mentions here, this space is perfect for the kids - "Deck camping is a go!"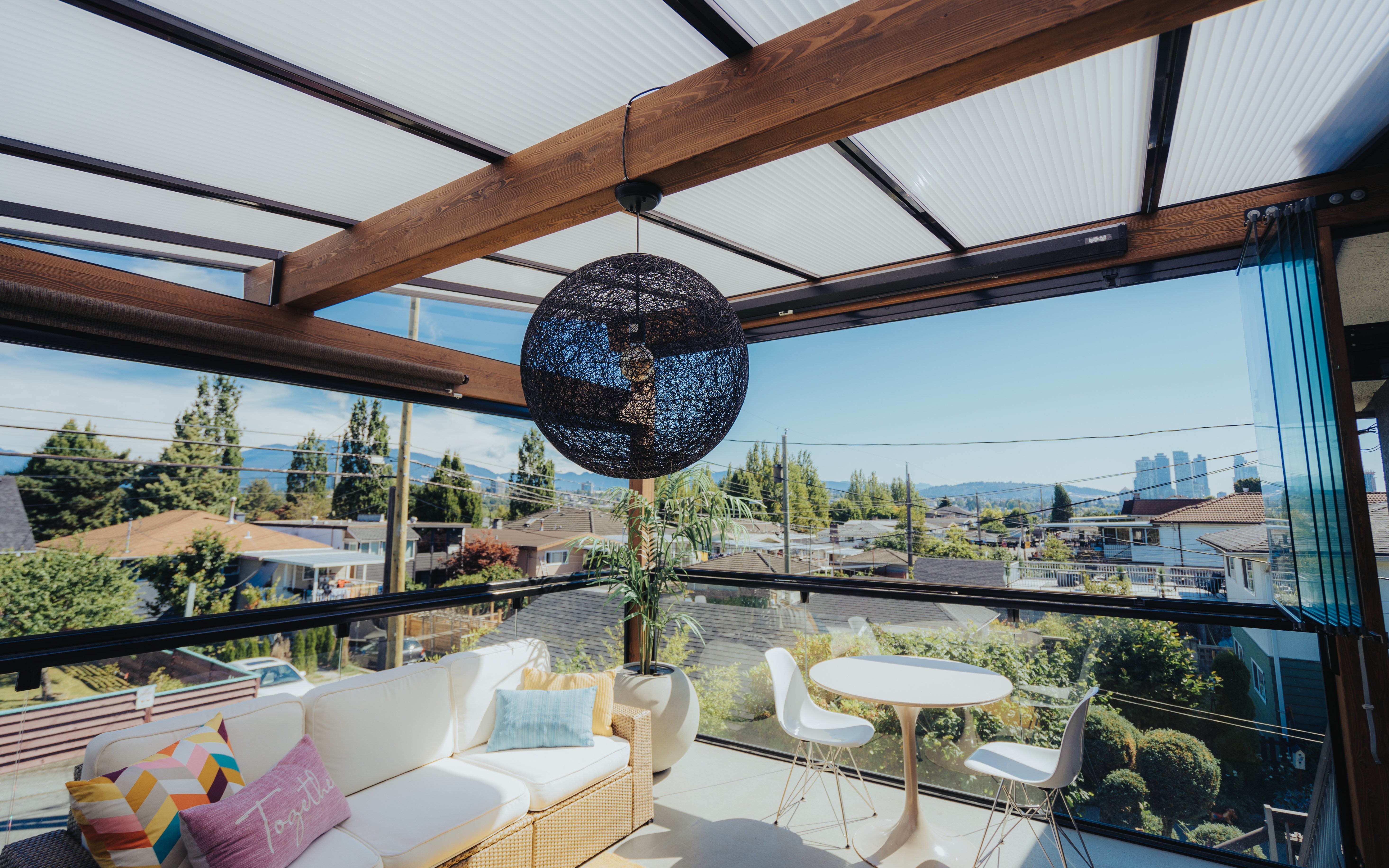 Sunroom 3. Any Patio Can Be A Sunroom
More homes are being built with the outdoors in mind, specifically covered roofs. Located 50km south-east from Vancouver, this Langley homeowner utilized Lumon's Retractable Glazing system to optimize his patio. Each wall allows for adjustments for the elements, whether its barbequing or for outdoor living.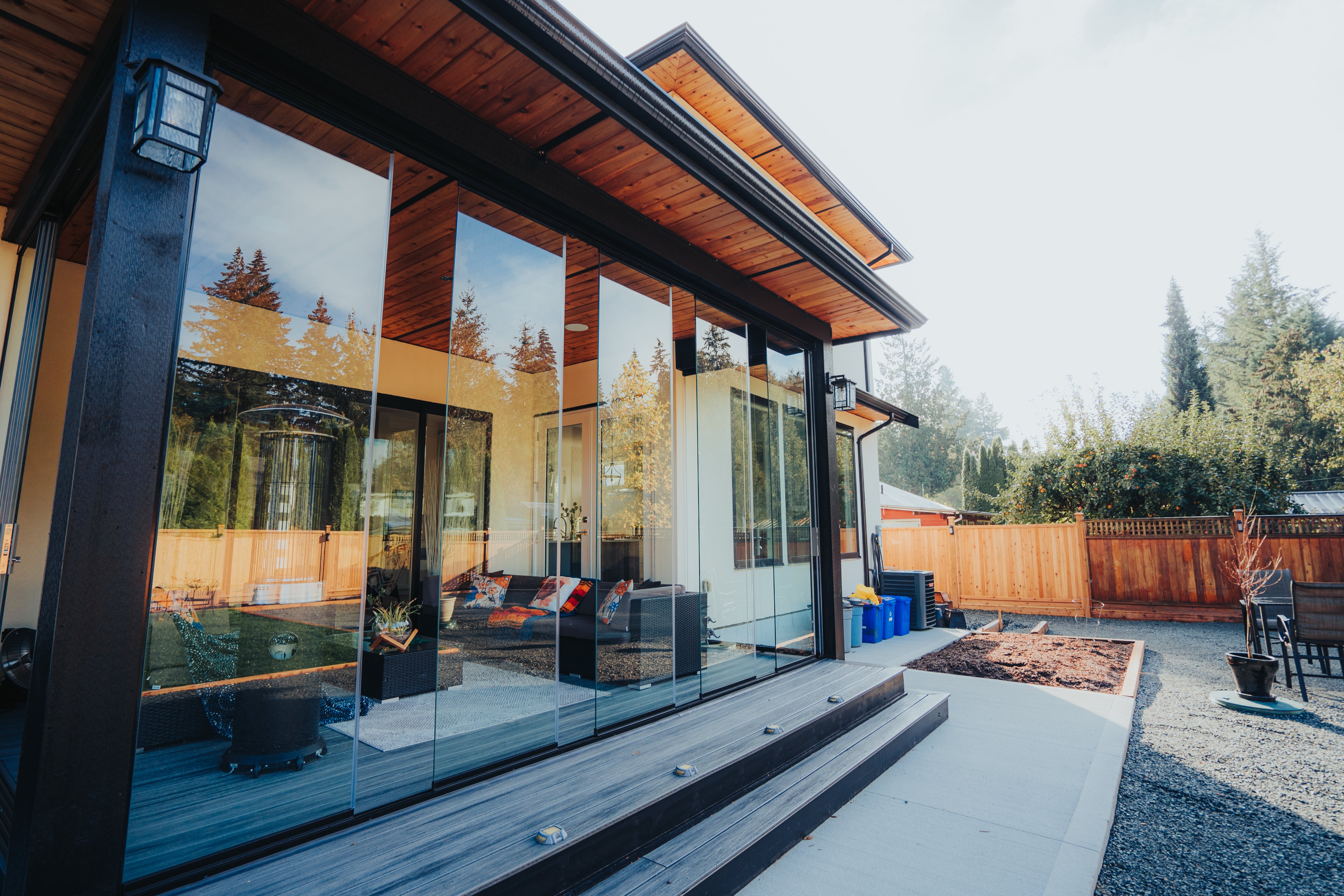 Sunroom 4. Sunroom on the Hillside
Located near Vancouver, this Lumon enclosed balcony on an upper level provides a perfect fusion of indoor and outdoor living with its sliding glazing. Offering stunning views of the surrounding landscapes, this balcony serves as a serene and comfortable retreat for relaxation and enjoyment.
This balcony utilizes LGS (Lumon Sliding Glazing). The panels operate as a sliding wall, which give room for furniture in tight spaces, without sacrificing the views with the frameless panels.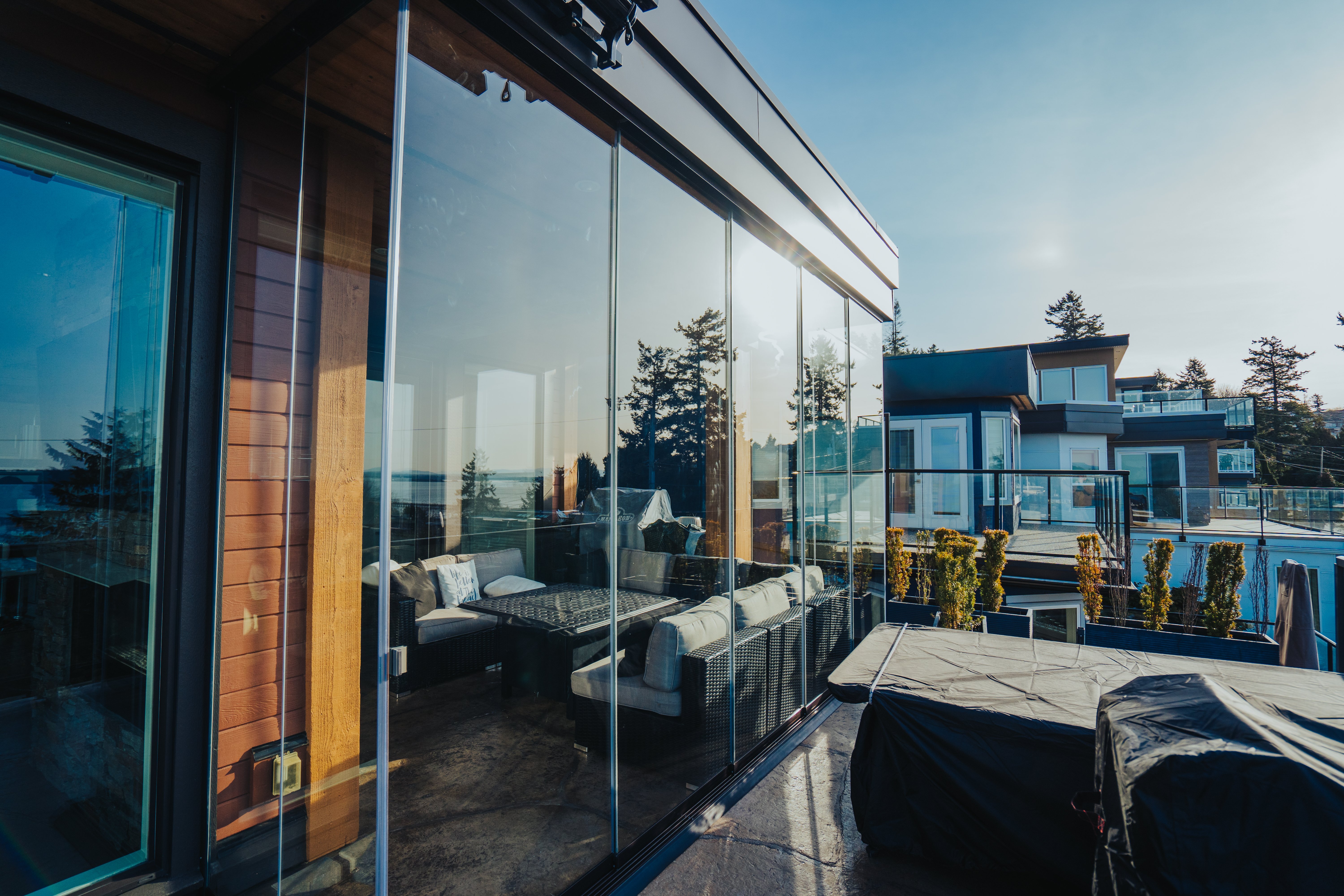 Sunroom 5. Beach Oasis
Located 30km south of Vancouver, this enclosed patio boasts the breathtaking beauty of a beach view. The space is adorned with Lumon retractable glass, allowing guests to immerse themselves with the views of the beach while enjoying the comforts of outdoor living. Whether savoring a morning coffee or hosting a soirée under the stars, this patio offers a seamless blend of outdoor tranquility and modern elegance.
With Vancouver's mild, wet climate, owning a sunroom that is not only contemporary in design, but functional is crucial to maximizing the patio and/or balcony. With Lumon's retractable and sliding wall systems, there is a solution for every type of outdoor space.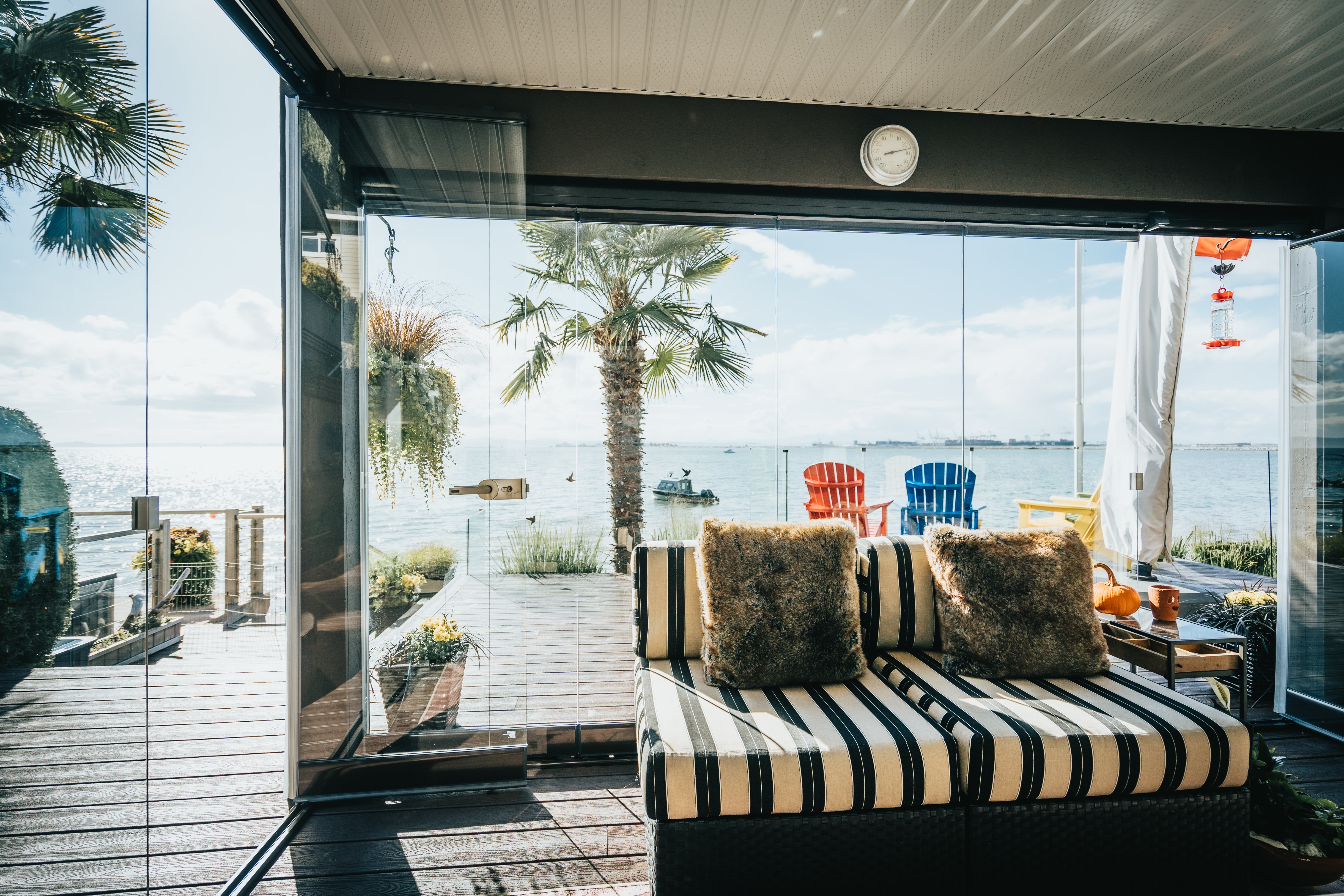 If you would like to learn more, and to speak to a consultant, click here